Autodesk Homestyler: Design Home Interior With Creative Ideas
Autodesk is a 3D visualization software giant that requires no introduction. It provides 3D visualization software for architecture, engineering, 3D modeling for industry manufacturing and media. A while back, they introduced their interior design and modeling online web service in the form of Autodesk Homestyler, where you can create 2D and 3D design and modeling visualizations. Autodesk Homestyler offers options for building, furnishing, decorating and landscaping your home or any section. It has a simple drag and drop interface that does not require consulting any tutorial. You have to register to use this web service, which can be done using your Facebook, Twitter, Google, Yahoo! and Windows Live accounts. This web app has video tutorials, help forum, design tips and a design gallery, where you can publish your personal designs as well. You can create multiple levels when designing your home with Autodesk Homestyler, and all these feature come for free.
Lets take a walk through the Autodesk Homestyler to get a feel of this highly featured, yet completely free, web app. You'll be greeted by an extensively-featured homepage once you have signed in, complete with a design gallery, tutorials and links for designs, and a Start Designing button, which begins the journey to creating your decorative masterpiece.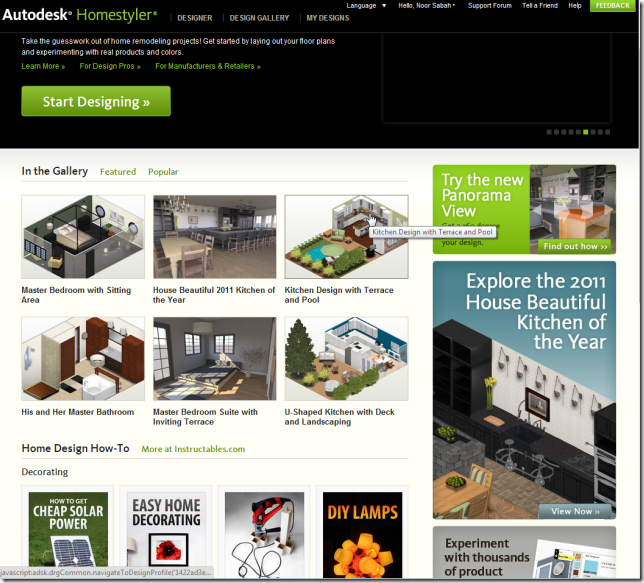 You can choose Start From Scratch if you have a rough plan of your dream house, or Visit the Gallery if you are looking for inspiration.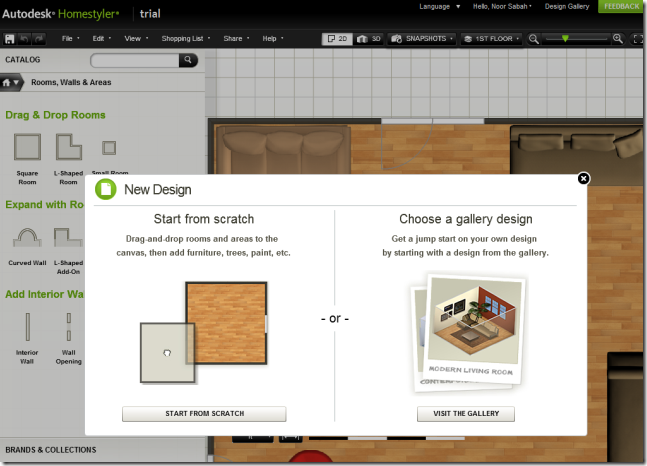 If you have chosen to start from scratch, you get a grid with dimensions and a menu at the left side of your browser window, where you can choose the size of your room with various shapes. You may drag and drop any of these and resize them, making your room huge enough to fit an elephant, or a tiny matchbox, depending on what your pocket allows.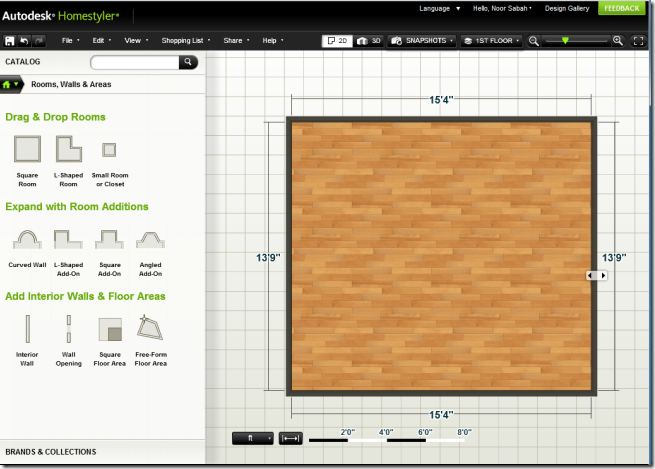 If you right click the green and black home icon on the menu at the left, you get four steps or categories/tiers of designing, viz Build, Furnish, Decorate and Landscape & Outdoor. Each of these offers a multitude of items that you can drag to your design. You can also choose a 3D view of your design by clicking  the 3D button at the top of the browser window.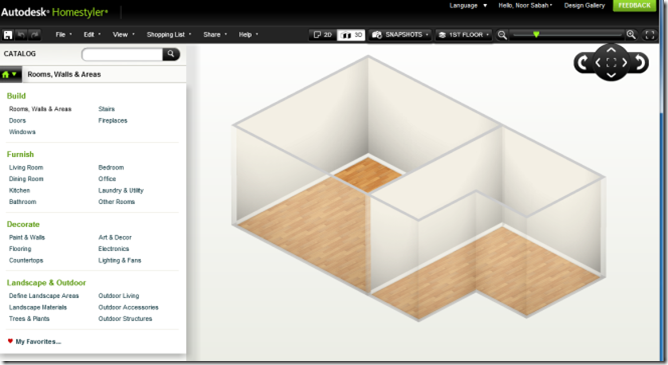 Autodesk Homestyler offers various ways of decorating your walls; you can choose brick walls, wallpaper, stucco walls, or paint your walls by choosing Paint & Walls under the Decorate option. Multiple styles can be combined, for instance, I have used tiles on one set of walls and paint on the other (you have to press the Ctrl key  if you want to apply a particular style to one wall only). There are hoards of designs of doors and windows that you can choose from, ranging from interiors to patio to regular doors in a wide assortment. One limitation is that you cannot add a door or windows in 3D view, and you'd have to click 2D button to drag and drop them.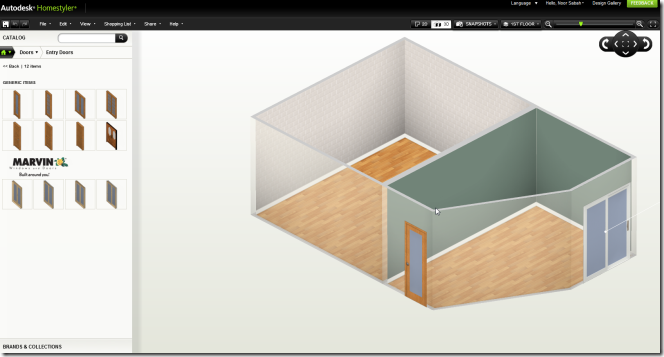 Furnish option offers you a wide assortment of furniture and other furnishing materials for your Living Room, Bedroom, Dining Room, Bathrooms, Kitchen, Office etc. Choose among the wide array of sofas, bean bags, chairs, tables and other Living Room Accessories to decorate your design. Once you have placed an item in your design, you can rotate it to suit your needs.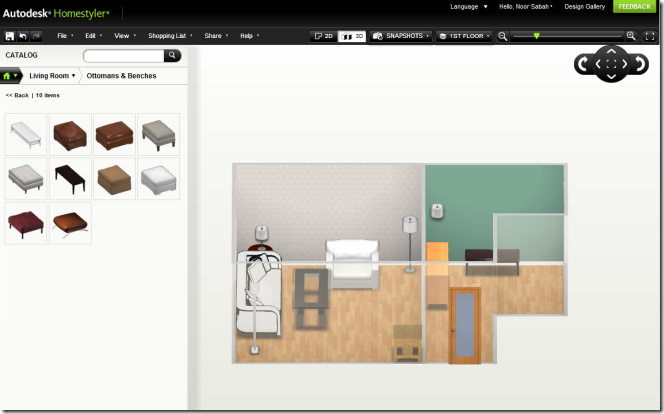 You can add floor plans to your design later in the designing phase as well, without disrupting your existing design. For Kitchen designs, items like refrigerators, microwaves, cabinets, dishwashers, faucets and other kitchen appliances are available. Same goes for the bathroom designs. Autodesk Homestyler offers some furnishing accessories from certain established brands in the market to get a real feel of things. The Outdoor Living area has a free form design option, and once you have demarcated your Outdoor Living area, you can press the Esc key or double click the screen to finalize it. The app gives the option of creating wall partitions as well. Finally, there is a black button at the upper right corner of your design page, where you can rotate the 3D view to take a look at your design from all sides.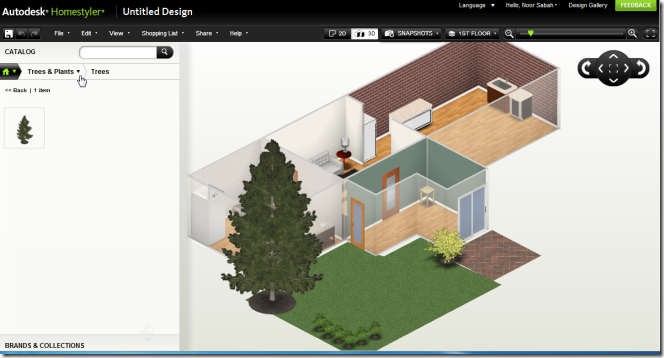 New levels can be added, and for that, you may either Start from scratch or Clone another level that you have previously designed.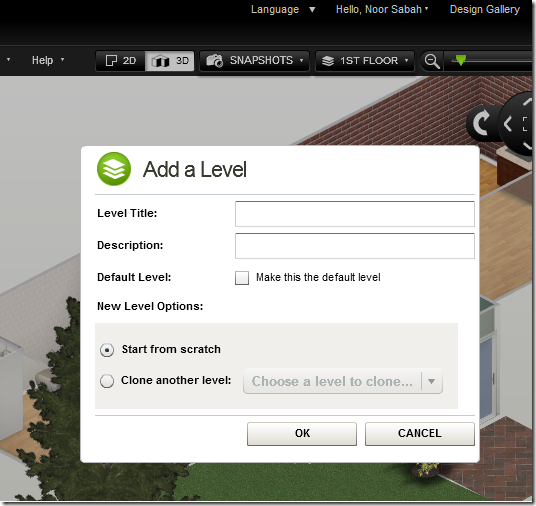 The best thing about Autodesk Homestyler is its uber-simple GUI. Most of the 3D modeling and design software tend to have tedious complexities, and you have to go through hours and hours of tutorials to get a hang of them. With Autodesk Homestyler, you take charge of your interior decor, and let your creativity loose!