Better History – Improve Chrome History View & Sort In To Timed Slots
The Chrome interface, just about every bit of it, whether it's the Extensions' page or the Downloads' page is very clean and very easy to navigate but when you look at the History page you wonder what went wrong. Chrome's history view is nothing flattering and it falls in line with the dismal history view that all browsers have. Better History is a Chrome extension that greatly improves the Chrome history view and has the additional feature to separate pages opened in time slots, fifteen minutes apart.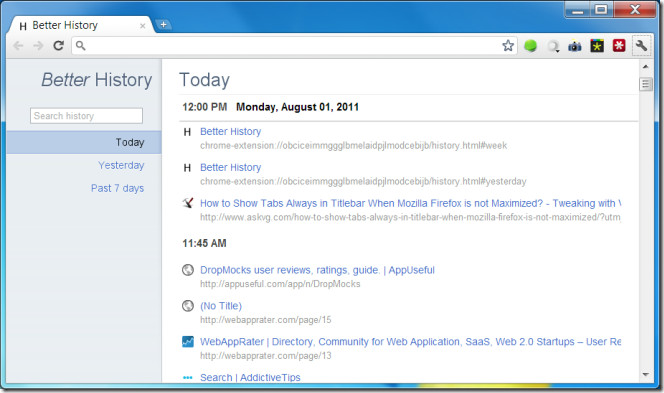 Once installed, the extension will start to sort the pages you visit, post installation, in to time slots. Pages are sorted as per the time they were opened i.e. if you opened the AddictiveTips site at 11:45am and kept the same page open till 1pm, the site will appear in your history in the 11:45am slot as a single entry. The slight drawback with the extension is that it doesn't let you edit or clear your history. The extension is pretty new to the Chrome store so there's a good chance that these essential features might just be added in an update. The extension will not sort past history in to time slots, only the pages that you visit after installing the extension will be sorted.
Install Better History Extension For Chrome