Bliss Control: Centralized Dashboard For Multiple Social Networks Settings [Web]
Want total control over your social media settings? Bliss Control is a nifty little web app that provides a single directory of links to manage all your social media settings. The service comes with a fairly basic interface that helps you easily access links to any settings page on popular social networking sites. For instance, if you want to change your profile picture, username, password, bio, email or any other setting on social networking sites, such as Facebook, Twitter, Tumblr, Pinterest, LinkedIn or more, then all you need to do is pick a setting, network and click GO. The web app will then instantly take you to the specific settings page. To be clear, the service doesn't require your login information to work, it only points you to the right settings page on the appropriate website.
To start off, simply hit the click to choose option displayed under the setting and network buttons.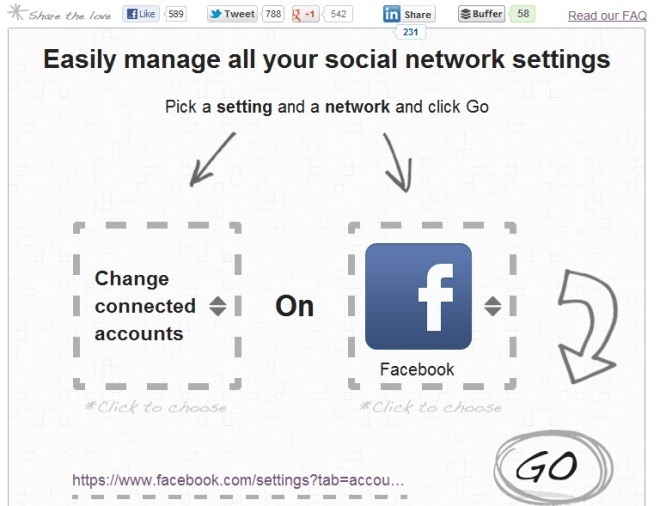 A box will pop-up with a list of settings, such as Change Bio, Change password, Delete account, Change design, Change mobile settings and more. Choose a setting, and then select the click to choose option under networks.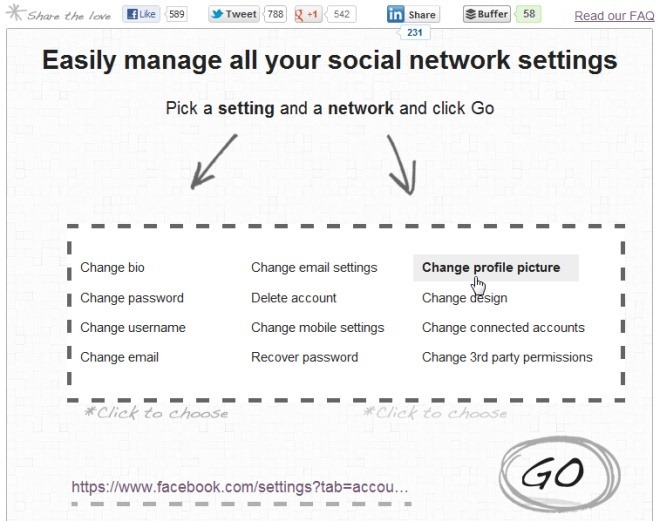 Next, you will find a bunch of networks, such as Facebook, Twitter, Tumblr, Pinterest, YouTube, LinkedIn, Path, Flickr, Meetup, StumbleUpon, Foursquare, Google+ and Instagram. Similarly select a network, click GO and the service will directly lead you to the specific setting's page on that network in a new tab.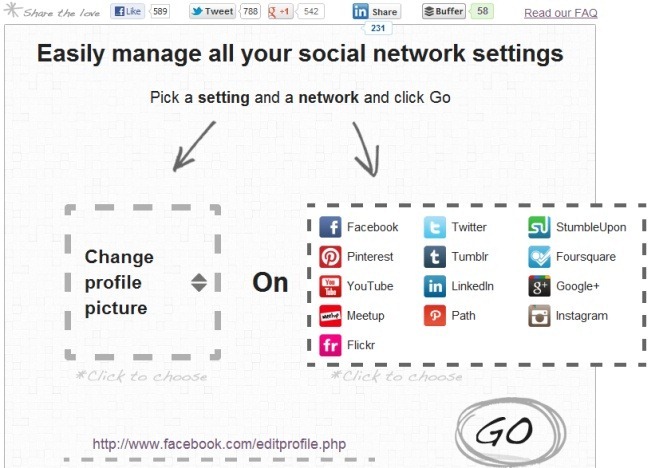 Bliss Control is actually a great way to manage social networks and their settings. For many people, profile editing and customization is difficult to figure out and every time a service has its settings or design overhauled, it leaves users confused. Bliss Control is like a map to point you in the right direction when you can't find settings for a particular feature. The options you see will differ depending on the service and the customization options it offers. If you're good at managing social networks on your own, but are often plagued with friends for help, this app is worth referring them to. The interface is really easy to figure out and visually appealing as well bearing similarity to IFTTT.
Bliss Control is quite a useful web application that saves time and lets you manage social media in a more efficient manner. The service definitely deserves your attention, so visit the link below and try it out for yourself!