Block Unwanted Facebook Features With Workbook For Chrome
Facebook isn't all useless and the truly purposeful users will find a utility for the site. Whether your work is exciting enough that it requires you have unrestricted access to the site or because you just find some of its features annoying, Workbook is a Chrome extension that lets you hide the Newsfeed, new notification counts in the left panel, notifications in the top navigation bar, chat messages and the right panel on your home page to keep things looking more the way you like them.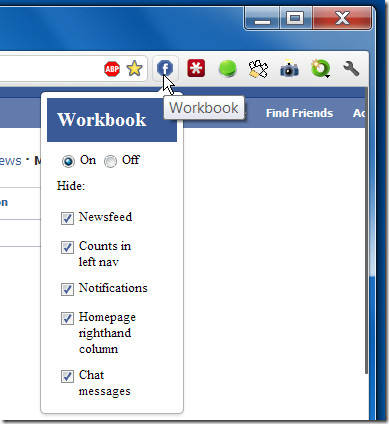 Just to be clear, this isn't one of those 'help me concentrate on my work' extensions nor is it something that can help evil employers all over the world block Facebook recreation time for their employees. The purpose is to either hide stuff you don't like or to hide things that might be distracting and/ or annoying from the real stuff. The extension adds an octagonal Facebook icon next to the URL bar. Clicking on the icon lets you see options for which features you can block and has radio button options that let you toggle the extension on & off.
If the extension doesn't automatically hide the features after you select them from the options, try refreshing the page.
Install Workbook For Chrome
Update: It looks like Workbook has been discontinued. However, you can try the much loved Minimalistic for Facebook extension.