Bookmark Sentry Scans & Deletes Duplicate/ Broken Favorites [Chrome]
If you have a lot of websites bookmarked in Chrome and find it difficult to manage the ever growing number, then Bookmark Sentry is a scanner that checks your bookmarks for duplicate and bad links. It checks for bad links and duplicates at intervals you specify, and displays a report. The extension can be scheduled to run a scan every day, week or month, or you can choose to manually scan the bookmarks. Moreover, it also retrieves bookmarks that have connection or 404 errors. Currently, the extension has no buttons or icons, but you can run a manual scan from the extension's options.
Simply access Bookmark Sentry Options to start the scanning. The time it takes to scan the bookmarks depends on the amount of bookmarks and the speed of your internet connection. The extension is very easy to use and comes with some customizations, like scheduled scanning, connection timeout and scan mode. You can either scan your bookmarks for duplicates, bad links, or both. Select options from the drop-down menu, according to your preferences and click Scan Now to start the process.
After the scanning is complete, a Scan Results page is displayed in a new tab with two different categories, Problems and Duplicates. You can then separately delete bookmarks found under Duplicates and Problems, or simply click the Delete All Not Found (404) and Delete All Duplicates button.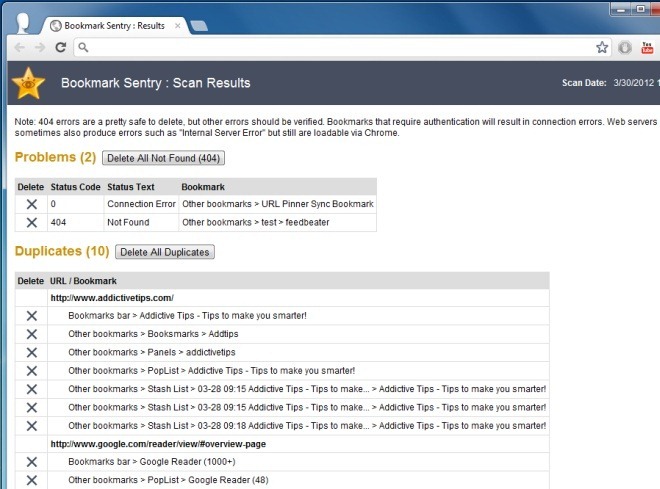 The extension is excellent as far as organizing bookmarks goes. Not only does it track down duplicates but also finds dead links which can actually be more of a nuisance. While the extension is meant to help you organize bookmarks it can serve many other purposes including helping you keep an eye out for errors on pages of a website. Although it is a scanning tool, it can work as a monitoring tool as well.
The extension has room for improvement though; a feature to selectively scan any one of the folders would be a great addition. A way to perhaps log the results, not in detail but just a count of how many dead and how many duplicate links have been discovered, would also make the extension more useful.
Boomark Sentry scans your browser for invalid bookmarks, and identifies and deletes dead bookmarks. The extension works smoothly and lets you clean up your bookmarks bar and folder in a few easy steps. Can you think of any other uses you could put this extension to?
Install Bookmark Sentry For Google Chrome