Bookmarks Suggester: Search Bookmarks Using Keyboard Shortcut [Chrome]
One of the great things about Chrome is its minimal design. It altogether does away with a separate search and URL bar and compounds them in to one even though other browsers still have the option to separate them. While Chrome's Omnibar amasses both the address and search bar, it doesn't let you search your bookmarks and for that you have to open the bookmarks manager. Bookmarks Suggester is an extension for Chrome that adds a search bar to any webpage when the Ctrl+L shortcut is used. This simple search bar then allows you to quickly search through all your bookmarks. The shortcut moves the focus to a new text field that suggests all matching bookmarks when you type in a query. You can then navigate through these results by moving up or down the list. Hitting Enter will open selected bookmarks in the current tab, while hitting the "+" button will open the selected search result in a new tab. In case there are no matching results for the term in your bookmarks, you will be redirected to Google.
After installing the extension, simply use the Ctrl+L keyboard shortcut to focus on the text field. As you do this, a semi-transparent black page with the text field appears over the current webpage. Enter the search term and a list of results from your saved bookmarks will be displayed in a drop-down menu.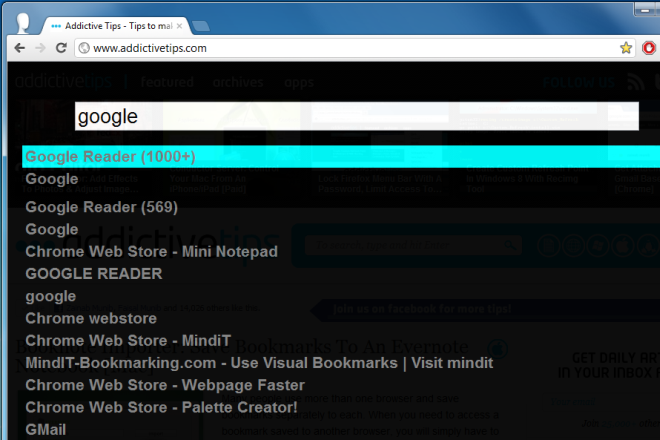 There are a few extensions available that allow you to modify the Omnibar's functionality so that it searches the bookmarks bar but these types of extensions often get very confusing since they make use of complex syntax (hitting the Tab button after typing a particular word in the Omnibar) and the results are always displayed in the same tab. The noteworthy feature of this extension is that it allows you to search your bookmarks without leaving the current page and give you the option to open a bookmarked website in a new tab. As opposed to using complex syntax, it relies on a simple shortcut for bringing up the search bar and it's good old type, search and select technique from then onwards.
So, whenever you're unable to find a particular bookmark, enter a query in the search field and access all bookmark related search results easily. Bookmark Suggester is an easy-to-use extension that lets you find bookmarks with only a click or two. The extension has no settings or options whatsoever, and can be installed from the link below.
Install Bookmarks Suggester For Google Chrome