BookRect Opens Firefox Bookmarks In New Tab [Extension]
If you're managing an enormous list of bookmarks in Firefox, you might want to change the way bookmark viewer is displayed. Many users have switched to Google Chrome just to use a better Bookmark Manager which opens in a new window to visit favorite web links, sort them, and delete un-necessary bookmarks. Since Firefox 4 does not contain options to change the bookmark viewer position, using BookRect is only the viable option you can opt in for. It is an extension for Firefox which loads all the bookmarks whenever you open a new tab, so you can quickly open your favorite web links. It was developed to give users quick access to all the saved bookmark items, without shrinking the window with standard bookmark viewer.
After the extension is installed, you need to configure bookmark viewing settings. Head over Extension Manager and go to BookRect options. By default, it opens the bookmarks toolbar web links, but you can select bookmark menu which is to be loaded on opening a new tab.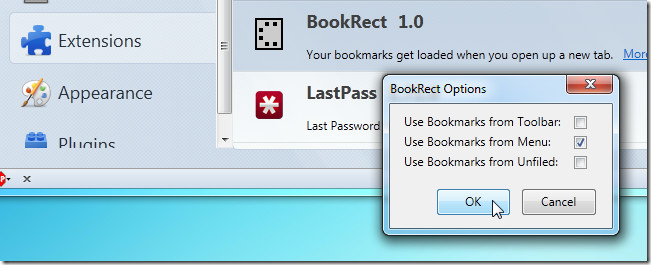 Once done, click OK and open a new tab. For first time, it might not open all bookmarks unless you do not hit Refresh button. Once all the bookmarks are buffered, it will load the specified bookmark menu with underlying bookmark folders and items, letting you quickly open favorite links.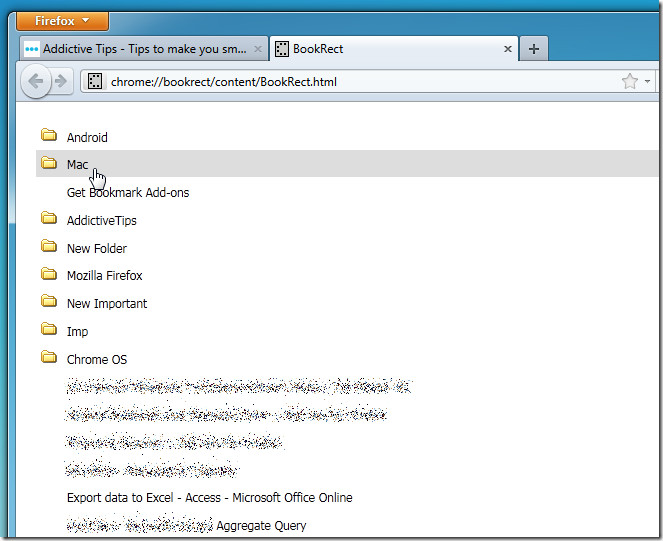 It works on Firefox 3.5 – 4.0.*
Install BookRect extension for Firefox