Browse The Internet With Keyboard Shortcuts In Chrome With Vimium
It is always impressive to see a computer guru at work; performing all those complex tasks without touching the mouse, making their way through applications, folders, networks and the internet using only the keyboard. Same can be said for that generation of geeks and hackers who remind you of the old DOS days, when command prompt was all you had!
While it may not be possible for a regular user to match these genres of people, you can still add some touch to your internet browsing experience with Google Chrome, through the extension Vimium.
Vimium provides users the flexibility or using keyboard shortcuts for browsing and navigation in Google Chrome browser. You can literally forget your mouse altogether and browse all you like just using the keyboard.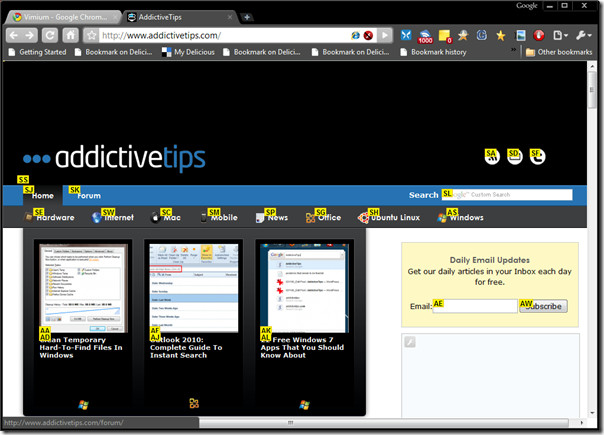 Vimium uses a highlighting method for all links on a page (screenshot above) and marks the links with letters, so you know exactly what combination you need to navigate through a particular link. Other than that, zoom settings are saved site-to-site, and the extension offers in-page dialog to help remember personalized shortcuts.
The extension's installation page lists all the keyboard shortcuts available. It may take some time getting around them all, but once you do, your browsing experience is sure to improve, since they allow performance of many of those tasks as well that would otherwise require multiple clicks.
Install Vimium (Google Chrome Extension)