Browse The Web Without Actually Having To Click Any Links [Chrome]
Oddly enough, Repetitive Stress Injury, or RSI, can also develop through extensive clicking of the mouse. While gamers are generally more prone to such a condition, people who extensively use computers have also complained of RSI. If you're a regular web surfer and use Chrome, Click-Free Browsing is is an extension that takes of the clicking burden for surfing the internet. It lets you scroll pages and follow links without actually clicking anything. Click-Free Browsing adds fixed navigation controls to the right hand-side of the page that give you fast scrolling capabilities and speedier browsing. You can just hover your mouse over these controls to easily scroll the page, simulate the back/forward buttons, and for navigating through links, just place the mouse over the navigation icons displayed alongside the links, and you will be automatically redirected to the target page. More after the break.
After installation, you will notice that six navigation controls have been added to the right side of the page. Using these, you can scroll directly to the top or bottom of the page, gradually scroll through the page and navigate between the back/forward pages. Moreover, when you hover your mouse over links, an icon will appear over them, on which you can just hold your mouse for a very brief interval, and click action will be simulated for navigation, without actually having to make the click.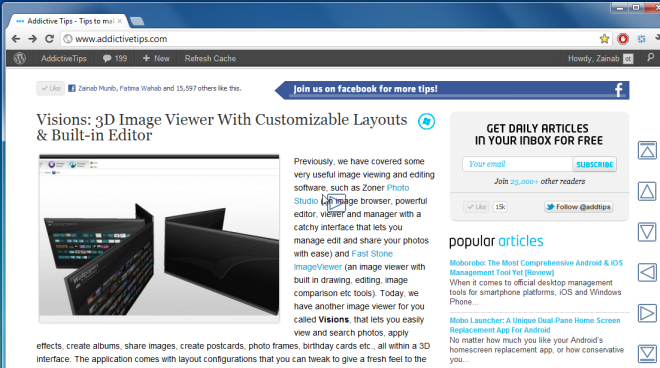 Click-free browsing options allow you to Show link image, Show images on the right, Show scroll marker line and more. You can also select the Link action delay, Other action delays and Continuous scroll interval options from the drop-down menus. Once done, click Save and you're good to go!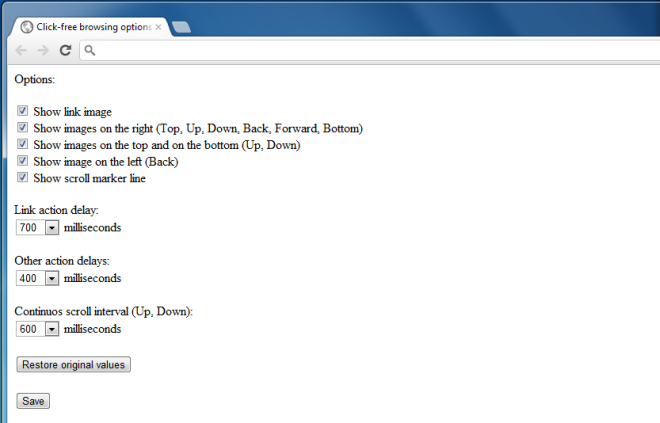 The extension lets you navigate the contents of a website in a different and interesting way. It reduces physical stress on your hands and makes browsing a breeze. Add to the mix its easy-to-use interface, and you can really improve your browsing exprience!
Install Click-Free Browsing For Google Chrome