Buffer, Replay And Change Quality & Size Of YouTube Videos [Chrome]
SmartVideo For YouTube, a Chrome extension, allows users to control YouTube video playback with a number of settings and options. The settings can be configured from Options, and once you've set your preferences, the extension's Smart Buffer kicks in. This smart buffer is specially useful for slow connections, while other options include auto loop, buffer preferences, quality selection feature, video size and more. All these settings also work with embedded YouTube videos. With global preferences, videos can start as soon as the page loads, when the video is completely buffered or when a certain percentage is reached. Along with the buffering options, a video can be set to play only when you click it. Once the video is buffered, notifications (sound or desktop) are displayed instead of playing the video. You can also set the default video quality and size according to your preferences. The Loop option allows you to replay videos and videos are switched to full screen when in HD.
Settings can be applied to individual YouTube videos by hovering your mouse over the video and making the settings popup appear at the bottom of the video. Alternatively, you can set global preferences through the extension's options.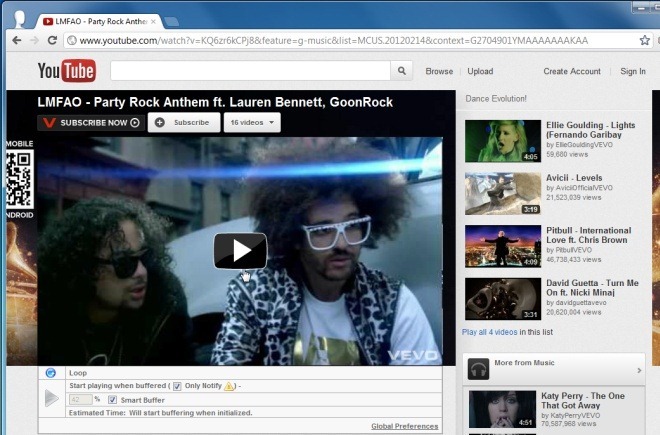 The Options allow you to enable Loop all videos and Hide player settings pop-up options. The Buffering Options allow you to play videos right away, start buffering right away, and start playing when buffered. You can also enable the Don't play;only notify that video has buffered option. Other settings include Video Quality and Player Size. Options for both can be selected using drop-down menus. Furthermore, users can switch to HD when videos are in full screen. All these settings can also be applied to embedded YouTube videos.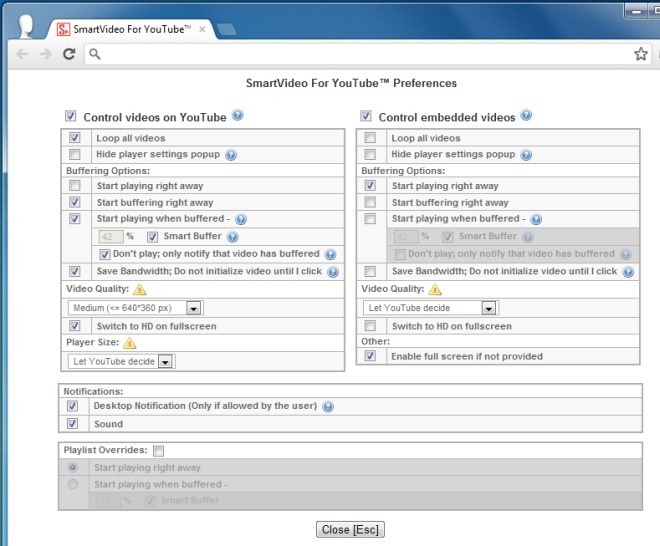 Overall, the extension is easy-to-use and lets you control YouTube video playback. Install the extension from the link below and enhance your YouTube browsing experience.
Install SmartVideo For YouTube For Google Chrome