BusyFlow: Manage All Your Cloud-Based Apps From One Place For More Effective Collaboration [Web]
Multiple productivity apps allow you to manage your projects and tasks more effectively, but switching between all of them can be a cumbersome process. BusyFlow is a workspace that creates the easiest way for you and your team to collaborate and manage all your cloud apps, such as DropBox, Google Docs, Pivotal Tracker, Google Calendar etc, through a unified interface. With it, you can easily juggle files, notes and tasks between your apps with a simple click or drag. Additionally, you can create a private wall for each project, and discuss any task, document, event, image or link together with your team. You can also add tags, edit or comment and add more collaborators. This smart web application is meant for the teams working together on a particular project, to be able to access, synchronize and discuss the same data in real time. As the developer's webpage illustrates, the service is particularly useful for developer teams, media agencies, power internet users and consultants. More after the break.
To start off, first create a hive. A hive is a workspace containing tools you use and people who you work with. Once the hive has been created, you can add multiple apps to it. BusyFlow integrates a number of popular cloud based apps, like Dropbox, Google Calendar, Google Docs, Google Tasks, GitHub and Pivotal Tracker. According to the website, new apps such as Basecamp and Yammer will also be integrated with the service in near future.
Once you've added all your desired apps to a hive, you will be able to access and view all files for each service to the right hand-side of the page. Remember, files from the chosen folder will only be displayed in a hive. Within the news feed, you can track all changes on all of your apps and projects. Each hive has its own discussion wall, where you can post your thoughts or just share a link. From the wall, you can also post items directly to other apps. For example, you can create a Google Calendar event in just one click, and all collaborators will be able to see it. BusyFlow makes apps interact in meaningful ways. Other members will also be able to attach files and post comments, so you can always keep track of the latest changes in a particular project.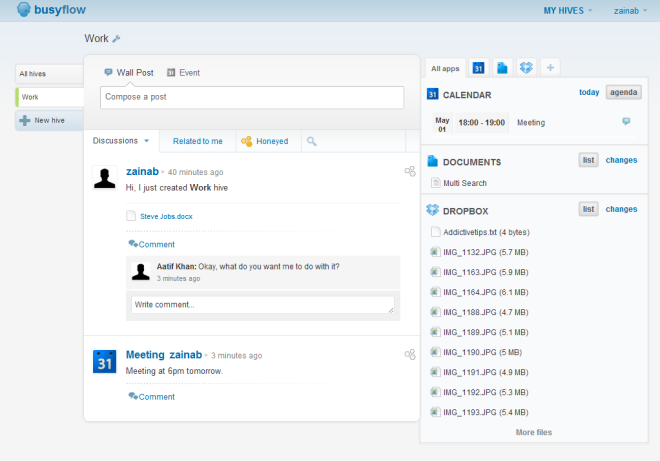 The service only requires a simple sign up and comes with three different pricing plans, Free, Basic and Unlimited.  The free plan allows unlimited apps, three users and one hive. With it, you will be able to view all changes immediately and in real-time, without having to login into multiple web tools to access your information. BusyFlow lets you  perform all of your important tasks without having to open multiple tabs or windows. Visit the link below to save time and focus on your work without any hassles!