Chat With People Browsing The Same Website In Chrome With Talkita
Wouldn't it be good if you could simply talk to people visiting the same website that your are on? Maybe to seek some advice or simply because of the novelty of the idea. Talkita is a Google Chrome extension that allows users to chat with people browsing the same webpage.
After installing this extension, you can click on the Talkita icon next to the browser bar to customize settings according to your preferences. You can choose to set options such as loading Talkita on every page you visit  and setting the direction of the chat window.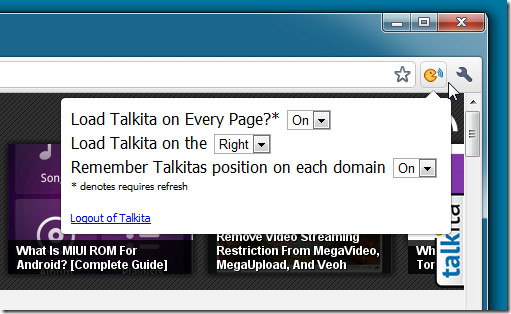 To chat with other people via Talkita you can log into your Facebook account and add the Talkita application by clicking on the "Connect to Facebook button on the chat window.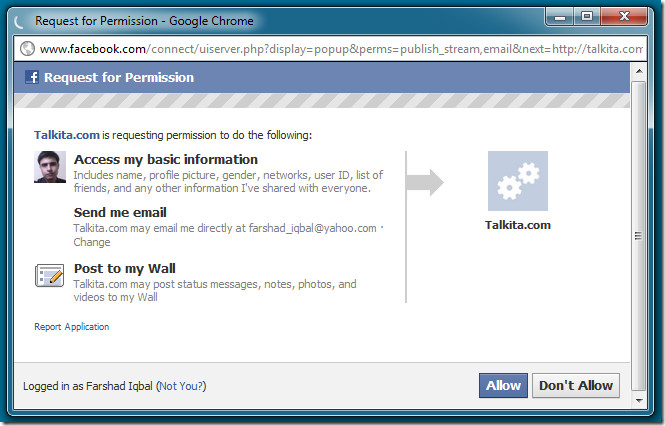 This extension can be pretty helpful while seeking product advice, sharing news stories or simply interacting with like minded people. For example if I was to be visit the website of my favorite movie, the chances are, that I might find more people who like it as well . This will allow me to interact with people with similar interests.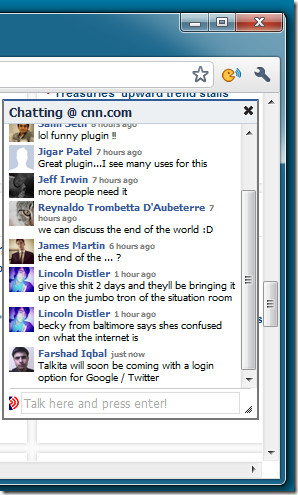 Talkita is still a young but promising extension. The novelty of the idea of interacting with complete strangers who are browsing the same webpage is quite unique. However, it might be unwanted for people who are very specific about their privacy. Moreover, as there is no mechanism to restrain slurs and spamming for now, this extension can become prone to such unwanted activities. Nonetheless, the developers have promised to enhance this extension and provide options to login with Twitter and Google. They are also planning to make this extension available for Firefox shortly. Talkita does not work with secure https pages.