Check Gmail Messages And Get Desktop & Voice Notifications [Chrome]
If you get caught up with work and forget to regularly check your Gmail inbox, then Checker Plus For Gmail, a Chrome extension, displays unread messages right in your browser window, and alerts you with desktop voice notifications by reading your messages out loud. You can listen to them, read, delete, archive or mark as spam without going to Gmail. It can read out the sender's name, email subject, and even the entire message when you're away from the computer for a certain amount of time. The extension also adds contact photos for all your contacts, and can run in the background even if Google chrome is closed. Clicking on the button opens a pop-up with all your messages, where you can delete, reply to, mark as spam and archive messages without having to open Gmail. Furthermore, you can specify mailto: links to be opened in Gmail from any website, and change click action from the options.
Once you've installed the extension, you will be able to read and reply to all your emails by clicking the button in the toolbar. The pop-up allows you to mark messages as read, delete, mark as spam and archive messages. Also, you can reply to any message, and read the full text as well. All these options are located to the right hand-side of each message.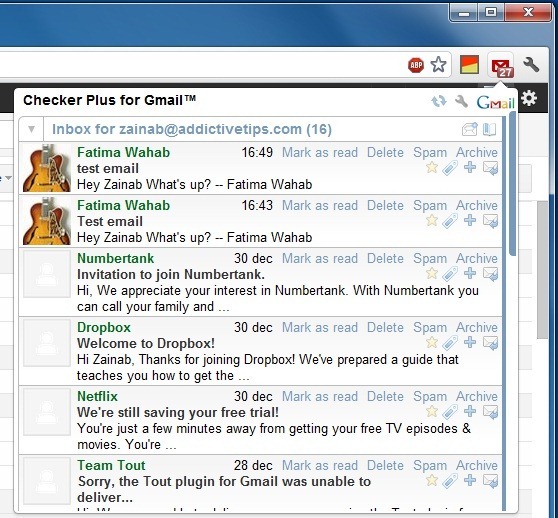 Whenever you receive a new email, Checker Plus for Gmail alerts you with voice and desktop notifications, letting you listen to the sender's name, subject and even the entire message. Change the settings by going to the Checker Plus for Gmail options.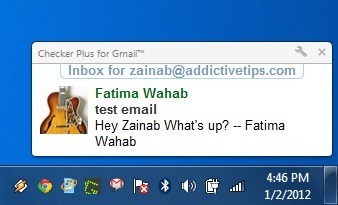 The extension comes with extensive settings, which are divided into four main categories, Notifications, General, Accounts and Button. It supports multiple languages, and you can change the language from the drop-down menu. Enable and change sound notifications from the drop-down menu, hit the tiny play button to preview them, and choose the one you like. Select Man or Woman for the Voice Notifications and enable voice notifications when you're away from the computer for a certain amount of time. Also, select whether you want to Hear email subject, Hear email message and Detect language in email from the options. In addition to that, enable the show image feature for contacts and more. The General category allows you to Open mailto links with Gmail, Archive messages as read and so on. Three actions can be performed when the button is clicked, including Open Gmail tab, Open pop-up preview (if unread mail) and Open pop-up preview.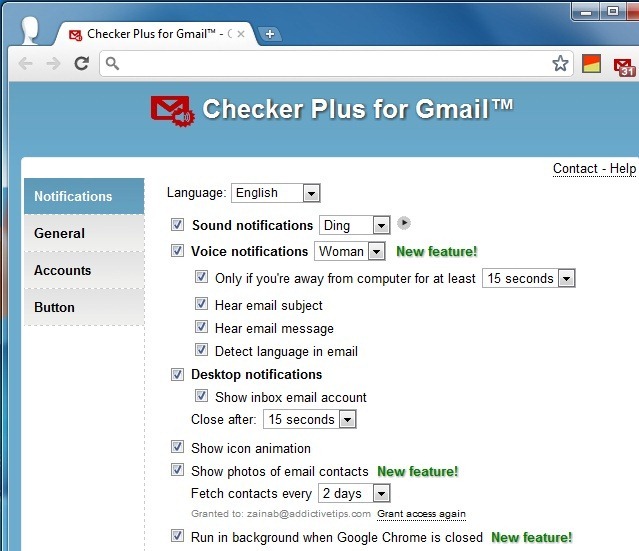 This is quite a handy extension that lets you keep track of all your emails. With Checker Plus for Gmail, you will never miss an important email again. Visit the link below, try it out and drop a comment.
Install Checker Plus For Gmail For Google Chrome