Wi-Fi PC Sync: Remotely Copy WiFi Profiles From PC To Android
If you're looking for a way to sync wireless access points (Wi-Fi hotspots), their passwords and other settings from your computer to your Android device, look no further than Wi-Fi PC Sync. The app saves you from the hassle of manually feeding in a password for each Wi-Fi access point in your vicinity – particularly useful after flashing a custom ROM, or performing a factory reset on your device and for users who have multiple Wi-Fi connections at their homes or workplaces. The sync mechanism works through a combination of a desktop client, a valid email address, and the Wi-Fi PC Sync app itself.
Once the app is installed, it prompts you to provide a valid email address, which it later uses to register your account; a confirmation of which is sent to you via email. Along with the confirmation of registration, the email also carries the setup file of the desktop client that you must install and run on your PC in order to start syncing.
The desktop client detects and communicates with all the wireless access points (WAPs) saved on your computer, and syncs them with your device. Once syncing is complete, the mobile client displays a notification in your device's status bar. Needless to say, you must be connected to the internet through mobile data or Wi-Fi in order to send the mail, and start the sync process.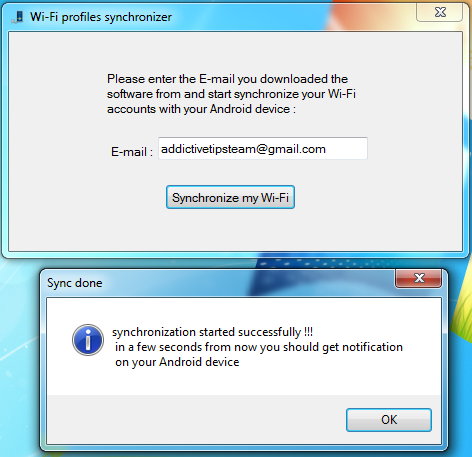 After that, it's pretty much smooth sailing. All you need to do is hit the Synchronize my Wi-Fi button within the desktop client, and then the Get my Wi-Fi button on the mobile client's homescreen, and voila! All your PC's Wi-Fi profiles are saved to your device, complete with passwords and other settings. The process can be manually repeated to check for new connections by hitting the Start over button within the mobile app.
To confirm if all profiles have indeed been saved to your device, navigate to Menu > Wireless & networks > Wi-Fi Settings. Tapping on a Wi-Fi connection should allow you to connect to it without having to enter a password.
The sync mechanism has been tested successfully with the desktop client running on Windows7 (64-bit) and the Wi-Fi PC Sync app running on HTC Desire Z. Although the usage of the app is specific to a select few scenarios, it can prove to be quite handy as and when any of the aforementioned situations arise.
Download Wi-Fi PC Sync for Android