TheftSpy Has Everything You Need In An Android Anti-Theft & Remote Management Tool [Review]
We have previously reviewed quite a few remote device management, location tracking, and anti-theft solutions for Android, but it's hard to recall a tool that matches the proficiency of TheftSpy. Fresh to the Play Store, TheftSpy (Alpha) is a multipurpose Android tool offering web-based remote management, location tracking and anti-theft features. Besides offering services like remote contact list, call logs & message inbox access, location tracking via GPS, data wiping, device locking, and system rebooting & shutting down, the app brings several relatively new features to the table, such as the option to remotely take device screenshots, snap images via front-facing camera, push custom text messages as full-screen pop-up alerts, toast messages or as Text-To-Speech (TTS), encrypt entire mobile content, read & delete WhatsApp messages, secretly record audio via your device's microphone and lots more, all from your desktop web browser.

As with most similar services, TheftSpy requires you to first register for an account that will be used to link the web app with the mobile app. You can get yourself a free account from the TheftSpy website, or use the in-app registration services on your Android device. In order to avail the TheftSpy service, make sure you're logged in to the web app as well as the Android app on all the devices you wish to monitor and manage. It must be mentioned here that the app supports performing operations over Wi-Fi as well as mobile data connection.
All the functionality found in the mobile app can be remotely accessed from the TheftSpy website as well. However, you must ensure that you're logged in to the app, and that the TheftSpy services are actively running on your device. We shall look at those feature later on, but let's first shed some light on the various remote device tracking, management and security options that TheftSpy offers.
GPS Tracker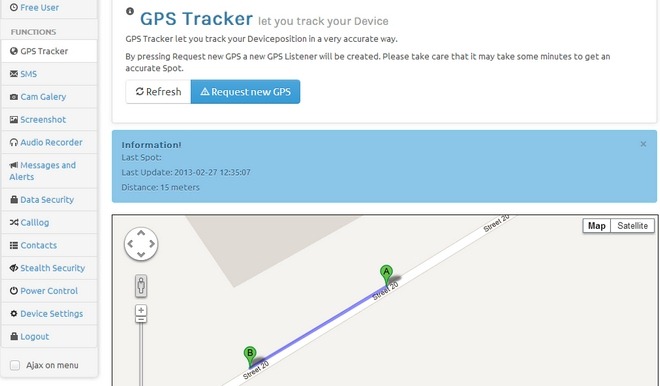 You can track your device's current geographical coordinates on Google Maps, and forward fresh GPS requests.
SMS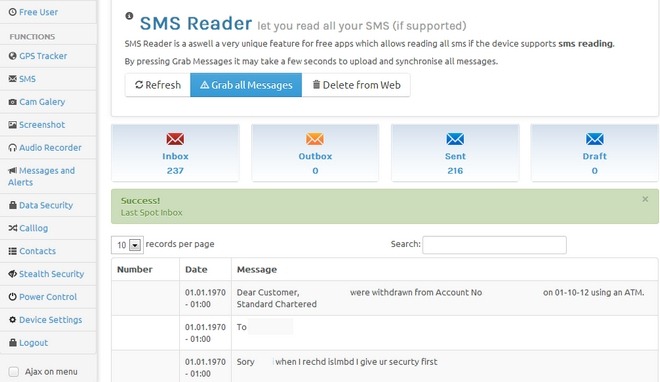 You can view and search your WhatsApp messages as well as all the SMS/MMS messages present in your Android device's inbox, outbox, sent items and drafts.
Cam Gallery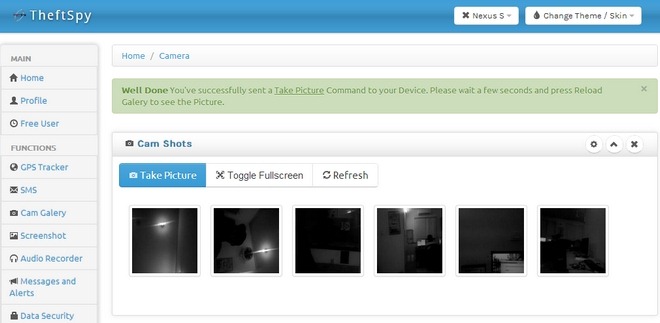 This feature of TheftSpy lets you remotely snap photos using your device's front-facing camera. Once a photo has been taken, just hit the Refresh button to preview it on the webpage. The app is capable of caching all the images as long as the remote connection session remains established.
Screenshot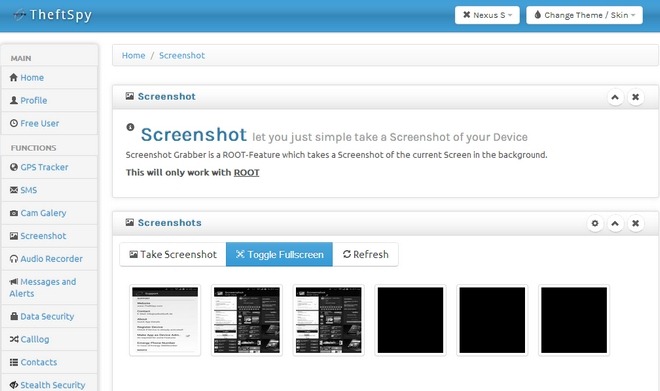 This feature works on rooted-devices only, and lets you remotely capture screenshots of your Android device. Like Cam Gallery, the Screenshot tab enables you to preview all the captured shots on the webpage.
Audio Recorder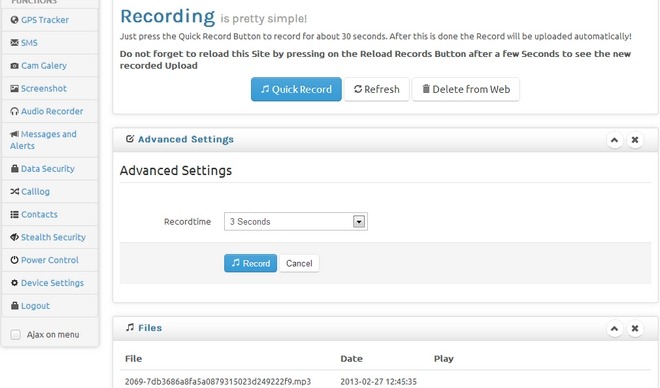 You can use this feature to remotely record audio from your Android device's microphone for a custom duration. If you opt for the Quick Record feature, TheftSpy will automatically record a 3-second audio clip for you. The website caches all the recently captured audio recordings and lets you listen to them as many times as you like.
Messages & Alerts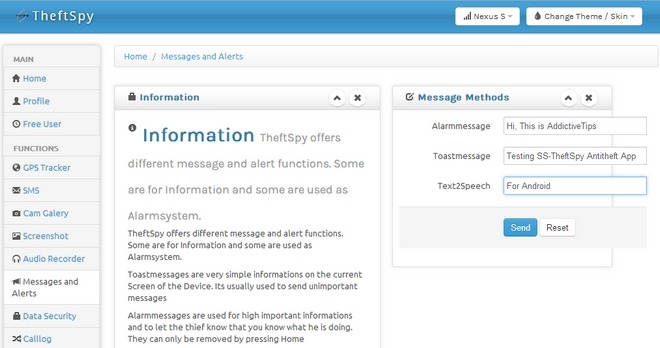 This tab offers three different options, using which you can remotely send a custom full-screen pop-up text message, a toast message or Text-To-Speech (TTS) message to your Android device. Oddly enough, the app currently seems to be missing the remote alarm feature, which is considered to be a basic element of most anti-theft mobile apps. However, this can be achieved using the aforementioned TTS message feature.
Data Security
Various options on this screen allow you to remotely wipe all your Android device's data, just the photos stored on your device's stock Camera folder, or your personal WhatsApp data. That's not all – using the last option on this screen, you can encrypt all the content on your Android device.
Call Log & Contacts
As evident by their respective titles, the Call Log and Contacts tabs let you remotely import the list of all the calls made, attended or missed on your device, and the all the contacts stored on your Android device's phone book, respectively.
Stealth Security
The Stealth Security tab offers different options to conceal the TheftSpy app on your Android device in order to protect the tool from prying eyes. Using various options available at hand, you can remotely hide the TheftSpy icon from your device's app drawer, manage the device administrative privileges for the app, and launch the app's login screen. The last option is useful if you have hidden the app's icon from the app drawer and wish to access it again. Note that availing this option will automatically log you out of the mobile app for security purposes, and you'll have to sign in again.
Power Control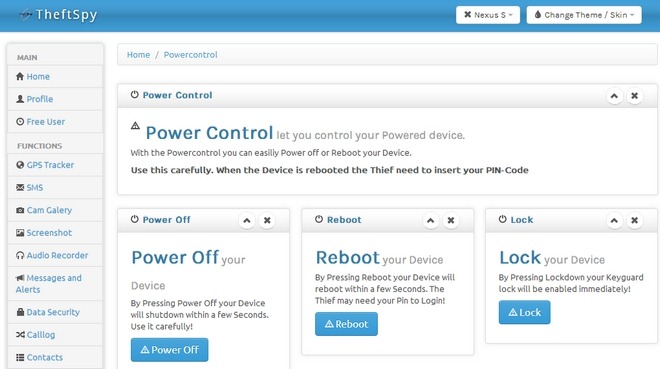 This tab has options to remotely power off, reboot and lock your Android device.
Device Settings
Besides displaying your device's SIM serial number, unlock code and network operator, the Device Settings tab can be used to modify various options included from the app's main configuration screen. These include the option to grant the app administrative privileges on your device, set the emergency SMS number, automatically start TheftSpy services on system reboot, upload photos and voice recordings over Wi-Fi only, and enable silent photo capturing upon providing the wrong unlock code.
Remember that TheftSpy is still in very early alpha phases, therefore you can expect it to return a few bugs during testing. As in our case, almost every single feature was tested successfully. However, our main concern is with the app's relatively barebones UI, which can be improved quite considerably.
TheftSpy requires Android 2.3 Gingerbread or higher to run, and can be downloaded from the Play Store for free using the link provided below.
Download SS-TheftSpy For Android
[via XDA-Developers]