Clean Firefox Places Database With PlacesCleaner [Extension]
Mozilla introduced Places in Firefox 3.0+ for handling history items, storing bookmarks, and other important information about web. According to Mozilla official community, it was developed to give power users (especially developers) improved and direct access to database and to make it easier for end-users to bookmark pages. PlacesCleaner is small Firefox add-on intended to let users control Places database and clean it.
After the extension is installed, you can quickly perform the cleaning by clicking its icon in status bar. Nonetheless, it is recommend to configure some preferences to customize the cleaning process. Places cleaning can be performed in two ways – automatic and manual. The automated process requires nothing excepts defining a time period (in days) whereas manual process includes disabling of status bar icon as well.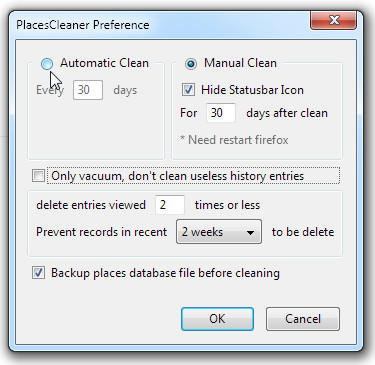 Underneath these cleaning modes, you can permit it to delete entries which have been accessed for defined amount of time and prevent history records for specified weeks from deletion. It also offers another handy option for creating a backup of Places database prior to cleaning. Once you've set the options, you're good to go. Now you can either clean the Places database from Tools menu or from the Status bar.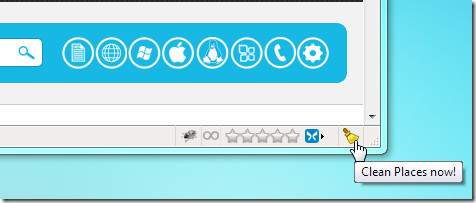 PlacesCleaner Extension for Firefox