Clear Firefox Browsing History, Cache, Cookies By Date & Time [Add-on]
Firefox browsing history is definitely smarter than Google Chrome's, but there's no saying that it can't get better. Between the two browsers, Firefox lets users sort the pages they've visited in several different ways, which makes it easier to find a certain web page you visited several weeks ago and to delete recent history. Precise Clear History is a Firefox add-on that amplifies the Clear Recent History function, and allows you to delete history for any specific date or date range, all down to the minute or hour.
For those uninitiated with the Clear Recent History function in Firefox, it doesn't just let you delete history, but also cache, cookies, form data, site preferences and more. With this add-on, you can delete each one for any specific date or time period.
To clear history by date, go to Tools > Clear Recent History. The add-on will have added three new options to the dropdown menu: Before specific date, After specific date and Between specific dates. Choose any of these options according to the time you want to delete history for.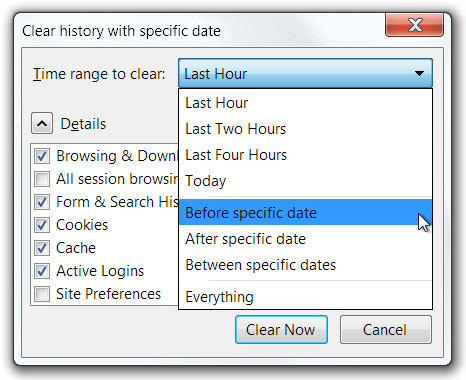 A small frame appears where you can select a date or date range and specify the time period for deleting history, cache, cookies etc. The button on the left of the date lets you jump ahead by 1, 2 or 4 hours or by 7, 20 or 30 days when entering a date. The dropdown arrow open a month-to-month calendar that you can pick dates from. Select the relevant check boxes for the data you want to delete after specifying the date and time, and click Clear Now.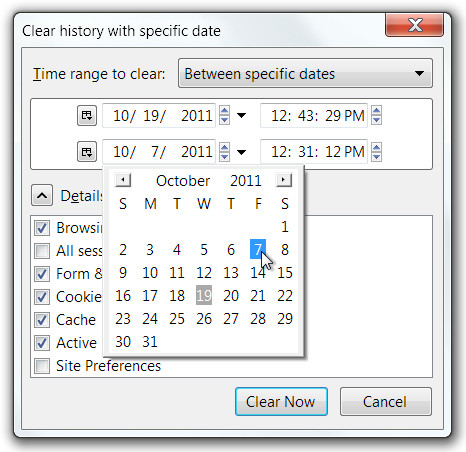 While the add-on definitely offers smarter history management for Firefox, the ability to delete history by domain and date would have taken it to a whole new level and is sadly missing in Precise Clear History.
Install Precise Clear History Add-on For Firefox