Clear Form Text Field History In Firefox
We all know that Firefox stores the information in the form that you fill. Each text field's information is stored separately. If you return to a similar text field, you will find all previously saved entries.
Some users(including me) prefer to keep sensitive information hidden and want to clear the form history of few selected text fields only. Clear Form History is a Firefox add-on that allows users to clear all saved entries from selected text field only.
We all know that deleting saved entries of the whole form is possible but when it comes to clearing the saved entries of few text fields, then this add-on does an outstanding job.
To use it, right-click the text form and select Delete all saved entries for this field option from the context menu.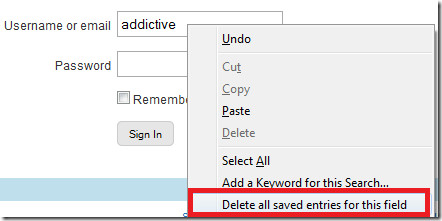 Once you clear the history of any text field, it is backed up so that it becomes easy in case you want to restore it later.
Clear Form History Add-on For Firefox
It works on Firefox 3.0 and later. Enjoy!