CloudMagic: Unified Real-Time Search For Twitter, Gmail, Contacts, Google Docs & More [Extension]
CloudMagic is a Chrome and Firefox extension that lets you search across multiple services, such as Gmail, Contacts, Calendar, Docs, Twitter and more. The extension lets you speedily search all your registered services and presents unified results. It also offers instant email message previews, as well as drag-and-drop feature for search results. CloudMagic lists relevant tweets, emails, docs, calendar events and contacts instantly as you type, and works across multiple services. Moreover, the Quick Preview feature allows you to quickly view and copy data from existing emails while composing new ones. The extension is easy-to-use and integrates seamlessly with your Gmail and Twitter interface.
After you've installed the extension, all you have to do is connect your accounts with CloudMagic. Simply click the button in the toolbar and select the Add services from the menu. The extension supports multiple cloud services, such as Gmail, Google Apps, Twitter and Exchange. Select the relevant options and grant access to the services you want to add. Once you've added your desired services, you can always manage them by clicking the Manage services option.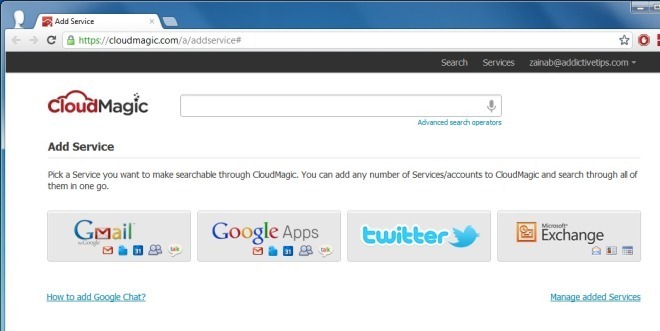 To make a search, click the button to open the pop-up and enter a query in the search bar. CloudMagic will then find all emails, documents, tweets and contacts containing the specified word. You will notice that the search terms are highlighted in a yellow color.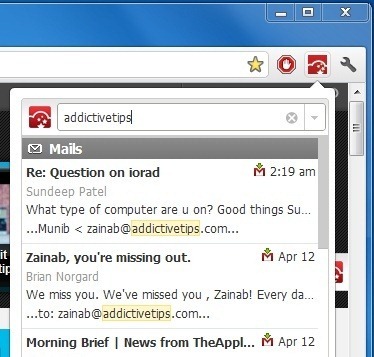 You can search everything or click the button in the toolbar to filter results by Mails, Docs, Events, Contacts, Tweets and other options. This is handy if you have a general idea of where the item you want is, but are not entirely certain.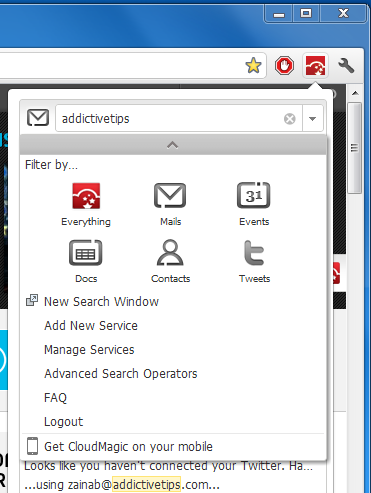 When on Gmail, simply click the floating button and enter a term to search your emails. When you click an email, you will quickly be able to preview and copy the text through a pop-up.
CloudMagic gives you a single integrated interface that links all your supported accounts, and when you've got loads of emails or documents, the extension will certainly make your life easier. You can install the Firefox or Chrome variants from the links provided below.
Install CloudMagic For Google Chrome
Install CloudMagic Add-On For Firefox