Collect And Organize Fragmented Web Content Into Research Booklet With Trails
Trails is an awesome Firefox extension which is written to abet users in collecting, editing and organizing fragments of text and images to complement their main research work. Since the web is the main data source for doing research on any topic, its offers a quick and easy way for managing data collection without requiring the user to manually re-structure the main research document by saving the collected fragments of text and images. Another prominent aspect is that all the data collection management can be done in its sidebar which can be brought up anytime while surfing the web. Users can quickly add the selected text fragment or image to main research document via right-click context menu.
Trails working is based on real-life pattern of collecting data into small booklets, it let users create & maintain as many booklets as they want to organize the data. Moreover, you can add multiple Spreads in a booklet to separate different type of information. The best part about the booklet feature is that it keeps all the data in a nice column-based structure, so you don't need to re-organize the information yourself before printing a booklet. The text and image blocks can be easily deleted, edited and adjusted as per your requirements.
Once the extension is installed, you can bring up its sidebar from either View menu or by using the Ctrl+Shift+F hotkey combination. Now, it requires you to create a new booklet for collecting data into different Spreads. All the options for editing bookmarks and spreads can be accessed from its sidebar.
To add text or image to the booklet, simply select the content and from right-click context menu, click Add Paragraph to Booklet for adding text or click Add Image to Booklet in case you need to add selected image to your booklet.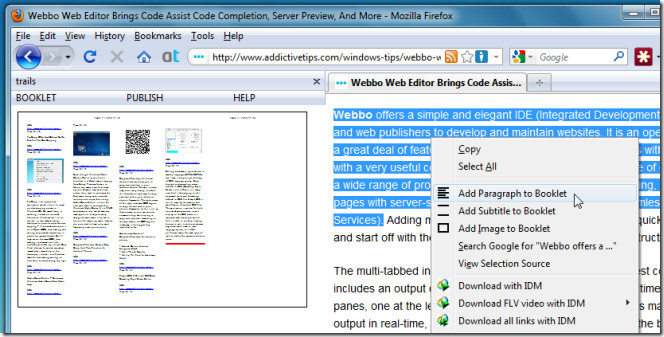 The text and image blocks can edited with a single click. To edit a text fragment, a click on the specific block is required to bring up its editor whereas you can remove the text or image block by clicking a small cross button attached with each block.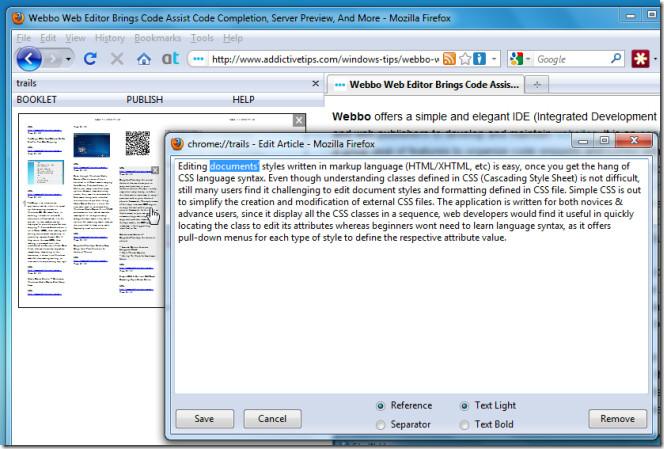 Finally, the booklet can be saved in PDF format, you can also inspect the document in print preview mode for making suitable alterations before publishing the document. Since it encourages magazine like structure of a booklet, you will find the published booklet layout both professional and well-organized.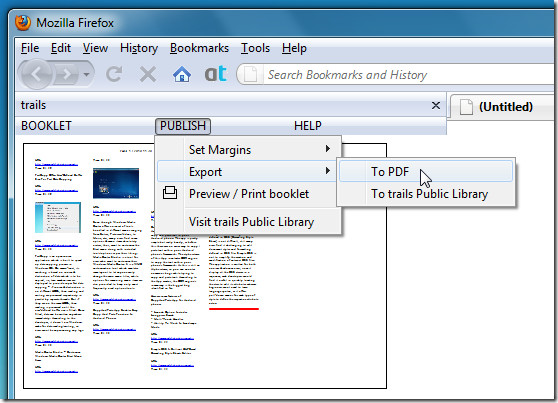 Below you can watch the official screencast which demonstrates the usage in detail.
It works on Firefox 1.5 and higher. Testing was done on Firefox 3.6.