Colrd: Create Color Palettes And Export To Photoshop & Illustrator [Chrome]
Can't find the perfect color for your website design? Palette Creator is a Google Chrome app that allows you to find the right colors and shades to create a color palette. The app allows you to select colors, create palettes and gradients and save them to your COLRD account. Palette Creator easily lets you pick any color from a color picker, and shows you corresponding shades of it along with the color's Hex code, and options to find colors similar to the one you're choosing, flip your palette, add more color panels to it, and preview your colors in full-screen mode before you save them. The app has a slick interface that allows you to easily create new colors, gradients and palettes. In addition to that, you can export these colors to Photoshop, Illustrator and GIMP. The Color, Gradient and Palette categories use the same color picker, which consists of HSL, RGB and HEX. For HSL and RGB, you will find a midpoint controller that you can use to increase or decrease the degree of hue, saturation or brightness.
You will have to register on COLRD in order to save the colors you pick and the palettes you create. The app offers three basic Create options; you can create a Color, Palette or Gradient. Each option has a color picker which consists of HSL (Hue, Saturation, Luminance), RGB (Red, Green and Blue) and HEX codes.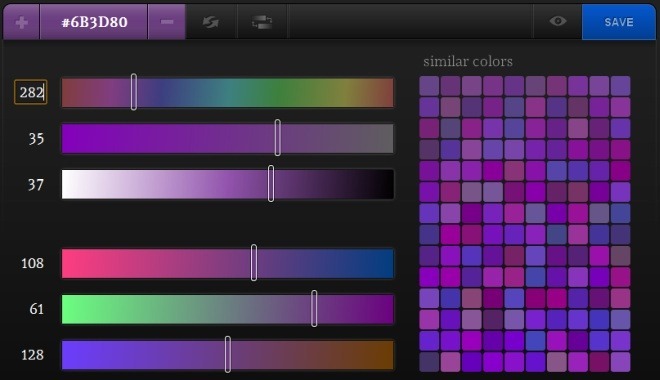 You can create a gradient or palette of three or more different colors. Add and remove panels by using the +/- buttons. Also, flip the colors so that the first color becomes the last and the last becomes the first. Click the eye icon to preview your colors in full screen mode. Once done, click Save, name the color or palette you have created, and share it on COLRD.  After creating a gradient, you may also download it in as  CSS3 and SVG files.

For the palette category, you can either share it on COLRD or export the palette to Photoshop, GIMP and Illustrator.

When logged in to COLRD, you can also use another useful feature called Discover, allowing you to discover different colors, palettes, patterns and gradients. Furthermore, filter these by selecting different colors and sort them by Date Created, Popularity, Name, Chroma, Hue, Luminance and Hilbert. Palette Creator is a handy app that allows Chrome users to easily find their desired shades and colors. Visit the link below, try it out and let us know what you think.
Install Palette Creator For Google Chrome