Conversocial Is An Efficient, Collaborative Social Media Management Web App
Keeping up with social media chatter can become increasingly tedious if you're equally active on two or more networks. Most users turn to social media aggregation apps such as TweetDeck and Seesmic, though for companies (or individuals with multiple online businesses), such simple tools seldom suffice. They requiring a comprehensive suite of social media management and analysis tools the likes of Conversocial. The web app allows managing multiple Twitter and Facebook accounts and pages from one place, supports team management (pro version only), provides analytics for each individual account as well as for all social media accounts combined, lets you add multiple RSS feeds and set them to be published to any or all of your social media accounts, automatically populates a Priority Inbox with social media interactions containing certain pre-defined and user-specified keywords (helps separate interactions that might require your immediate attention), and lets you mail yourself interactions within a time period of your chocie in the form of a CSV text file.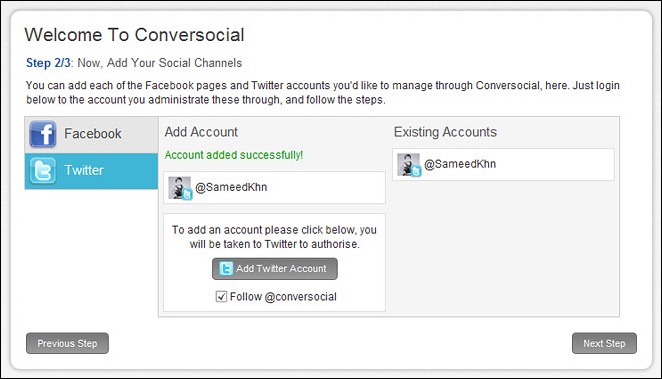 Setting up your Conversocial account is pretty straight forward. As with most other social media aggregators, once you're past specifying an email address, password and other account info, you will need to authorize the app to access each of the social media accounts that you add to it.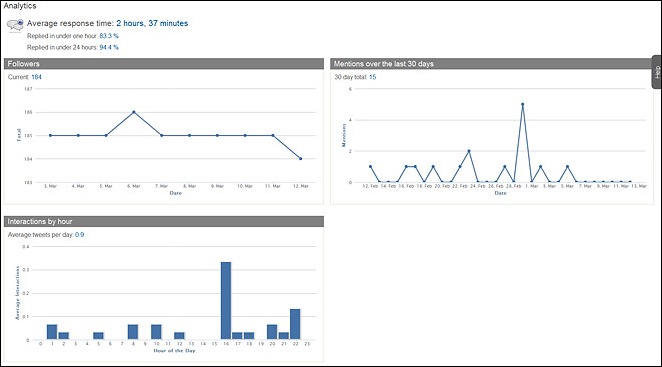 Once you're done with the simple setup, using the options on the left side of the web app's management page, you can post updates for the currently selected channel (Facebook/Twitter), view separate or collective analytics, go through, respond to, archive or delete all of your incoming social media chatter (@Mentions, Direct Messages, Comments etc.) separately or under one hood. Updates can be published or scheduled for multiple accounts simultaneously, and archive/delete/reply functions can be performed through pre-defined shortcut keys displayed along the bottom of the page.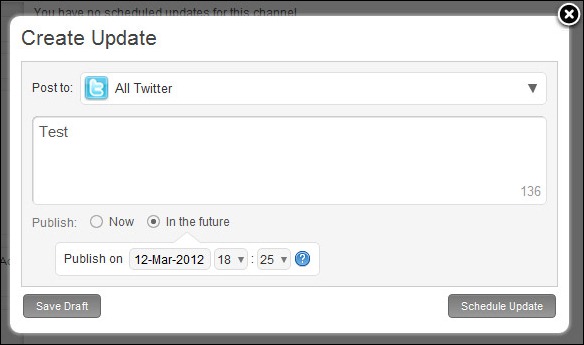 That's not all; you can add notes to and assign each incoming comment, mention or message to a member of your Conversocial management group (that is, if you have a group, creating which requires you to upgrade your account to Pro).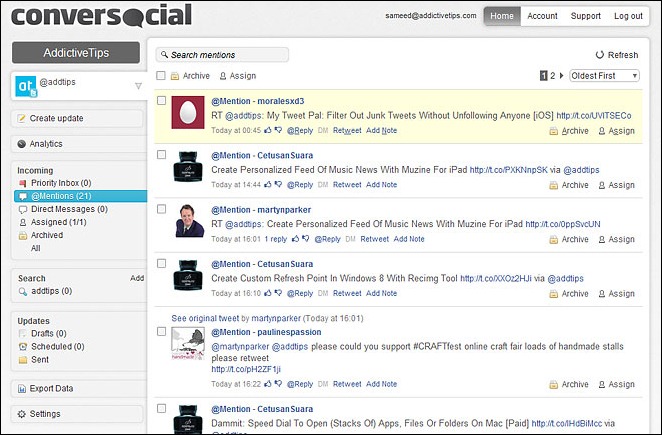 Where the Inbox section for Facebook accounts, or the @Mentions & Direct Messages sections in Twitter accounts might suffice in most cases, the Priority Inbox can play a pivotal role in helping companies or individuals with large and extremely active social networks manage their interactions in a more efficient manner. As its name signifies, the Priority Inbox automatically separates incoming posts and messages that contain certain user-defined keywords, allowing you to prioritize posts by topic or nature. By default, the app automatically prioritizes all posts containing common keywords that indicate need for assistance (What, Where, Help, Problem, Question etc.) or profanities. You can add more priority keywords within Settings > Priority Keywords Lists > Add.

From the same page, you may set how each priority list effects incoming posts for each social media account (prioritized, deleted or left alone). For example, you may set posts with profanities to be automatically deleted from your Facebook page (this feature is more suited for Facebook, of course, as Twitter only allows you delete your own tweets).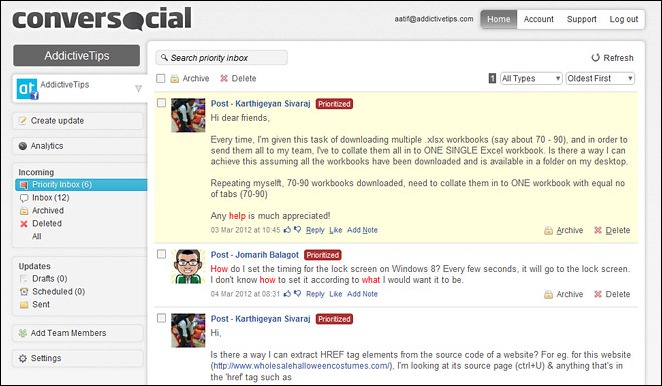 The Settings menu also allows you to edit your profile information, add and manage social media accounts (Channels), Conversocial Team Members and RSS Feeds.
As mentioned earlier, you can set Conversocial to publish each of your RSS feeds to any or all of your social networks at a publishing frequency of your choice. All feeds are checked for new items after five-minute intervals. To regulate publishing frequency, you may set new feed items to be published instantly or during a specified time of day, and choose the number of feed items to be published at a time.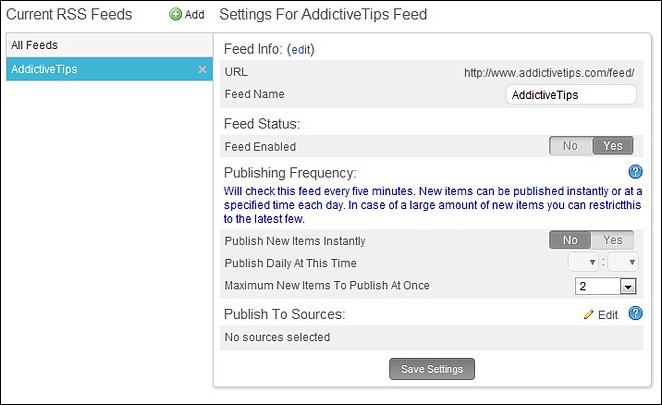 For larger businesses or companies spread out over social networks other than Facebook and Twitter, Conversocial might not be the ideal choice, but it is, in essence, as comprehensive a social media manager as they come. It primary aim seems to be helping businesses better utilize their Twitter accounts and Facebook pages to analyze progress and provide customer support and it.