Convert Gmail Emails Into Tasks With TaskForce
TaskForce is an extension available for Chrome, Firefox, and Safari that turns emails into tasks and organizes in user created lists. TaskForce integrates itself in the Gmail interface by adding two buttons; 'Convert to New Tasks' and 'Add to existing tasks'. The extension also exists as an independent frame in the Gmail interface. The frame can be dragged to any part of the interface suitable to the user.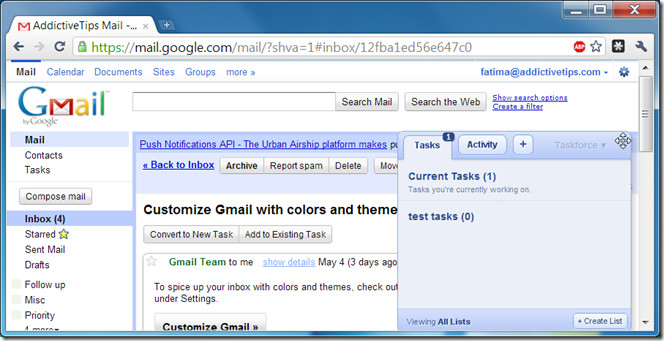 Once installed in either Chrome or Firefox, all emails can be converted to a task by clicking  the 'Convert to New Tasks' button directly under the email subject. TaskForce lets you set a date for the task and add it to an existing list of tasks or create a new list. TaskForce notifies the sender that you've converted their email into a task. Once the task is completed, a notification is sent to the sender; the email from TaskForce includes a link so that the sender can add a comment to the task. Comments appear in the Activity tab of the TaskForce frame.
In addition to converting emails into tasks, you can also add tasks by clicking the plus sign. All tasks are added to the 'Current Tasks' list unless a separate list is created for them. A description can be added to the tasks. In order to view history for a particular task list, select the list and click the checked box in the bottom right corner. TaskForce will separate tasks into Active, Completed and Delayed.
You can invite people to collaborate on the task, add comments to the task or delete them by going into the task details.