Corrupt A Document To Buy More Time [Life Hacks]
Are you working on a thesis or a research paper and the deadline has approached? Or perhaps you are late for the report that was to be submitted to your manager? Most professors and company managers ask to email them the document, which you can do even if it is incomplete, by corrupting it with Document Corrupter.
Upon opening it, an error message will be shown. When asked about it, simply respond by saying that it mustn't have uploaded properly, therefore the corrupt document. Before uploading the correct document, you will have plenty of time in-between (probably a day more) to work on completing the document before submitting it again.
Document Corrupter is an online service for quickly corrupting a Word document in .doc format. It supports both .doc and .docx formats. Once uploaded for corruption, it will provide a link to the corrupted document which you can download.
Important Note: Do NOT save the corrupt document in the same folder as the original source because it could overwrite the original document. You have been warned.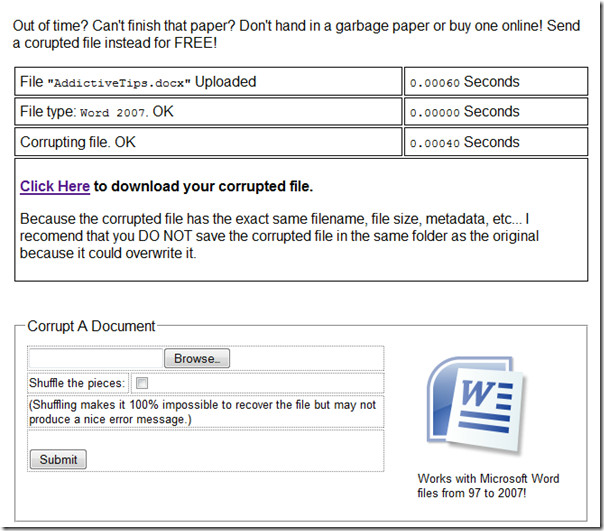 For those curious to know what an error message looks like, see screenshot below.

There is another option – Shuffle the pieces, which when checked, will make it 100%  impossible to recover the document but will not produce a nice error message, according to the developer.