Create Flow Charts & Design Website Wireframes With LucidChart
You can find a reasonable number of web apps that will let you create organograms, process flow charts and wire frame diagrams but you rarely find a single web service that lets you make just about every kind of diagram or flow chart you might need. Lucid Chart is a web service that is one off those rare all-in-one diagram and process editors. It lets you create drawings, flowcharts, Mind Maps, Network Diagrams, Organization Charts, Software and Web diagrams, UMLs and more. The service has both a free and paid version; you can add contacts and collaborate with them using the built-in chat feature. The paid account allows you to add more team members and has the added feature of importing and editing documents from MS Visio.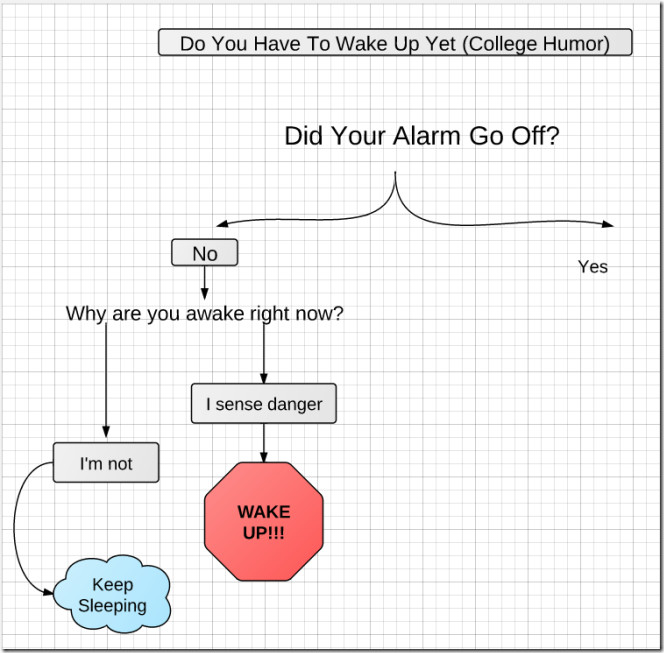 The free version allows you to create basic flow charts; to start using the service sign up for a free account and create your first document. Choose which type of document you want to create (types of documents available on a free account are limited) and add text boxes and shapes. On a free account you can insert up to 60 items in any one document.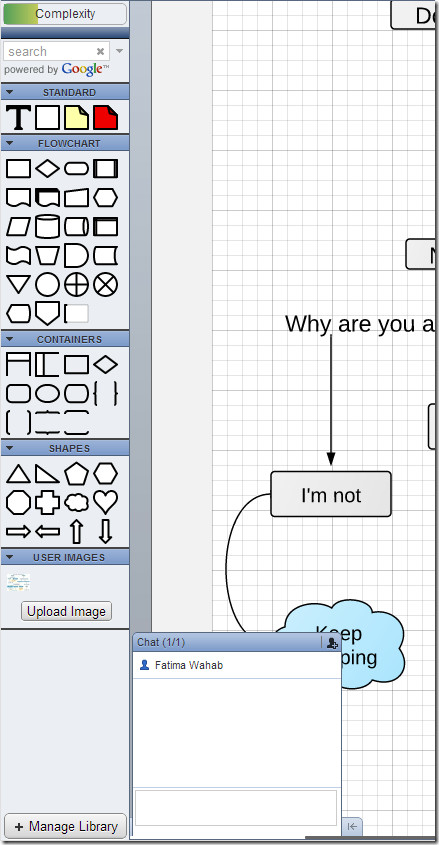 The service is simple drag and drop and supports all basic editing functions. To add a shape to your chart; drag & drop it on to the document from the control panel. You can add text to all shapes and edit the background color, add gradient effects, change font type and size anytime. You can also add images  to the chart by uploading them from your system. To add an image to your chart, click the Upload Image button on the left panel.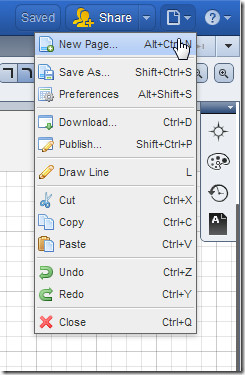 You can rename your document any time by clicking the the document title. Once you've finished, click Saved in the upper right hand corner or click the file icon for different save options.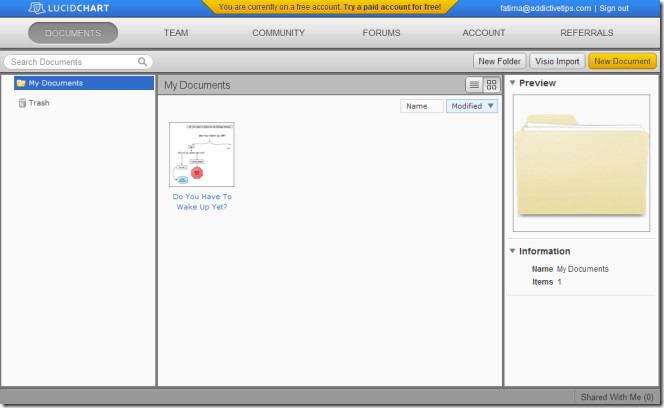 To view other documents that you've created, click Documents in the top navigation bar and a dashboard will open listing all your document. In addition to creating documents, you can keep them organized by creating folders. To create a new document you can either click the New Document button on the documents dashboard or click the plus sign next to an open document tab.

In addition to being able to create the afore mentioned kinds of charts, the web service also lets you create diagrams and sketches for iPhone apps on the paid version.