Create Profiles To Download Files In Different Locations [Firefox]
One of the features which I like most about dedicated internet download managers, such as, IDM, etc., is that they have an ability to automatically categorize downloads into special folders, such as, Music, Documents, Videos, Archives etc., making it easier to quickly search the files according to their types. Sadly, Firefox native download manager doesn't provide an option to specify different download folders to save music, videos, compressed archives, and other types of files separately.
Download Profiler is Firefox extension which lets you create 10 different profiles to save downloaded files in their respective file type folders. With Download Profiler, you can for instance create profiles for saving movies, music files, and applications in Movie, Music, and Apps folders respectively, so that you can easily categorize the downloads as well as keep the download folders separate on the basis of file types.
The Download Profiler doesn't replace the native Firefox downloader. It just changes the download path according to user-selected profile. All the profiles are accessible from right-click context menu. First off, after installation, head over to Extension manager and open it Options window to create Profiles for different file types.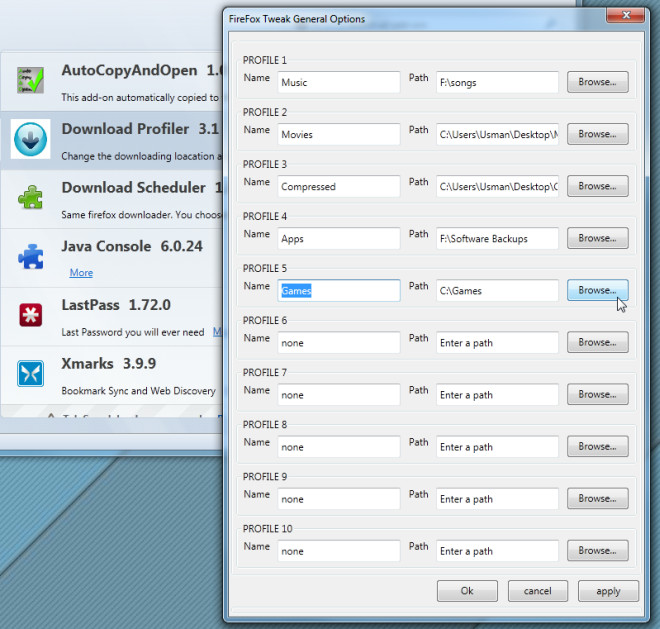 Once download paths are defined, Click OK to apply changes. Now when you want to download Application file (EXE, MSI, JAR, AIR, etc), just right-click the download link, choose the Apps profile to replace the output path, and finally start downloading the file.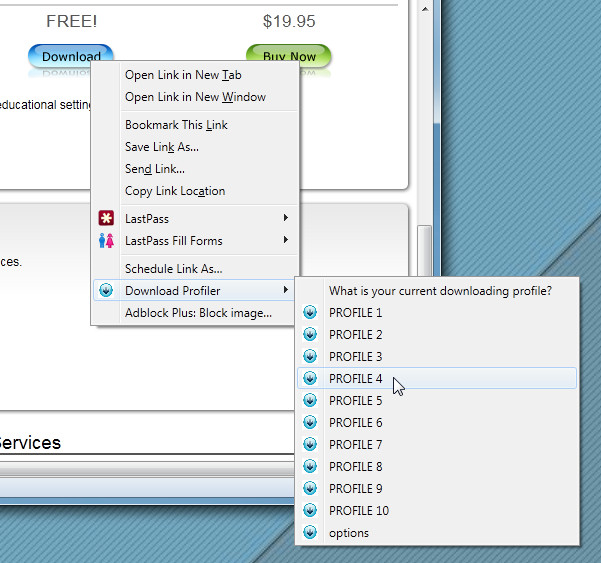 It will save the downloaded file in the specified Apps profile target path, which is in my case F:\Software Backups.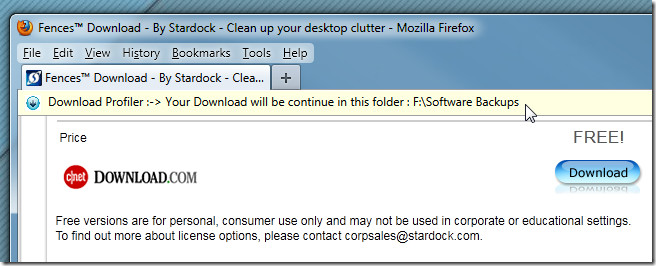 The major downside which I noticed with this extension is that it doesn't change the Profile names on right-click context menu, which would've been better for users to easily identify the Profile by their customized names, such as, Apps, Games, etc. We can hope that it will be included in later versions. However, the extension works without any problems on all Firefox versions.