Cross-Browser Website Design Layout Tester Browsera
Back in June we covered a dead-simple service launched by Adobe called BrowserLab that allowed designers to test their website design across multiple browsers. Since it is in closed beta, new users cannot sign-up anymore.
Today, I came across another outstanding service called Browsera. It has both free and paid packages, the free one allows users to test up to 25 pages which are enough for a webmaster. Most bloggers and webmasters usually check the main page design for flaws and the single post pages, so this should be enough for most users.

You can compare your website design across multiple browsers. It supports Internet Explorer 6/7/8, Firefox 2/3/3.5, and Safari 3.2/4. It also checks for problems detected on your website, site crawling, javascript errors, and more. Unlike BrowserLabs, since the test are complicated it takes some time to generate the results and once done, it will email you instantly. It includes the following functionalities apart from other features:
Javascript error reporting for detecting functionality problems
Login support via HTTP basic authentication as well as website login
SSL-based security
Full-resolution screenshots
Screenshot zooming
When running a test, you can select the browsers in which you want to generate the test, select the baseline browser, enter the URLs(one per line), and finally select how many linked pages it should crawl.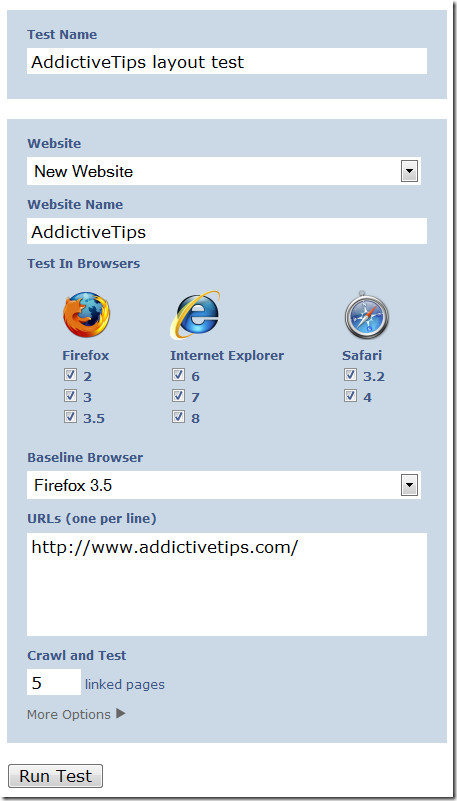 If you have implemented a new theme or moved to a whole new design, then testing your site for errors is recommended. Note that it requires registration when signing up for a packge.
Update: Screenshot of the layout comparison with baseline browser. The error are shown in details(not in screenshot) before the comparison. As you can see in the screenshot below, my blog is having a small problem appearing in IE6, this is because of IE6 rather than the flaw in design.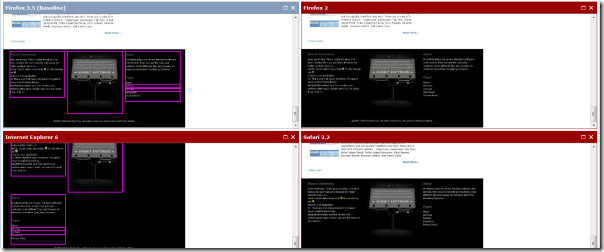 Enjoy!