Custom News: Get Latest Updates From Your Favorite Websites [Chrome]
Custom News is a Chrome extension that lets you read social, political and world news in an interesting way. It works by retrieving content from various popular websites, displaying them in a pop-up, and letting you find everything you are interested in by organizing it all in one place. You will find seven different categories in this pop-up, including News, Politics, Fun, Gossip, Sports, Economy and Technology. Custom News is a highly configurable tool that lets you add your own websites by simply entering a URL and clicking Add. The Custom News button also displays the number of new posts right in your toolbar, and lets you view new ones with ease.
The extension comes with its own news feed but, at the same time, gives you the option to add feeds of your own. The pre-added feeds appear in a popup when you click the extension's icon. Three buttons at the bottom of this popup allow you to refresh the feed, share this extension with others and the Options link lets you add RSS feeds to the extension.  When viewing feeds, you can filter them by category using the dropdown menu to select one.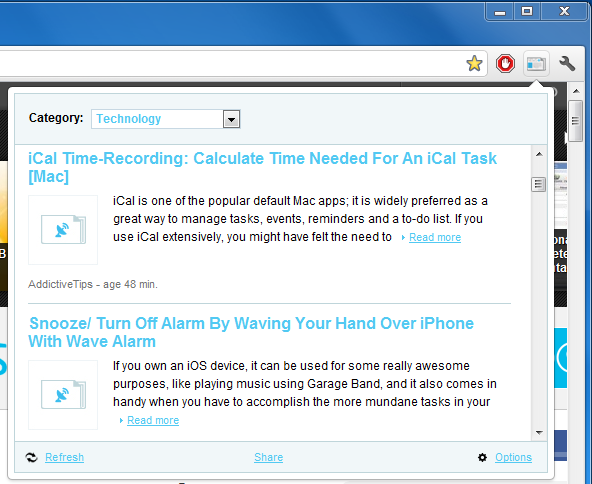 To add your own RSS feeds, click Options and in the new popup screen, enter the RSS link in the very first text input box. To keep items organized, select a category for the link you want to add using the dropdown menu and click Add. The categories listed can be expanded to reveal which feeds have been added. Select a feed and click Remove if you want to delete it.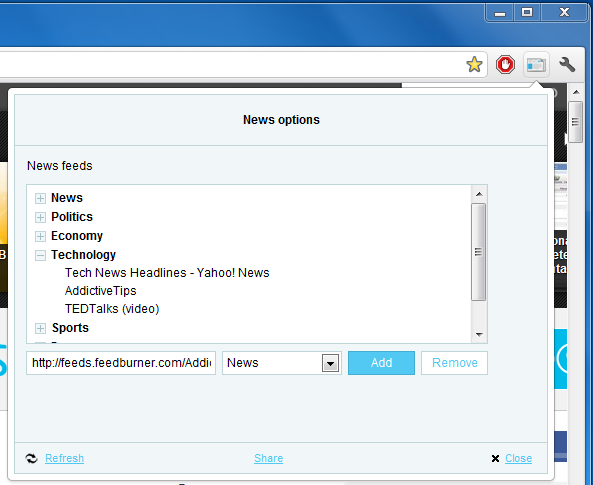 What makes this extension different from others that let you read news or view RSS feeds is that it has an option to categorize the feeds. Most extensions make-do with just pulling your feeds from Google Reader and do not give much importance to keeping the feeds segregated by topic. The negative part of this extension is that it sends usage stats anonymously and the option to send them is enabled by default. You have to selectively opt out by visiting its options and unchecking Allow sending anonymous statistics?.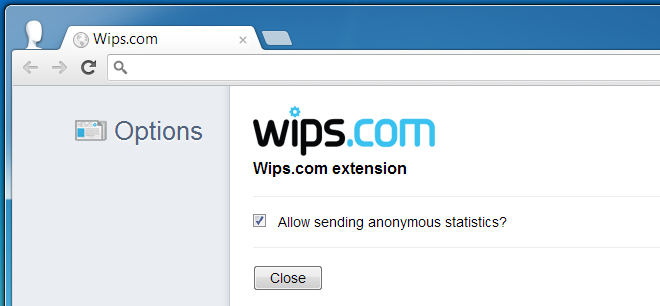 The extension is quite useful, and conveniently allows users to stay up-to-date with the latest content online. With it, you can access all you need without opening a bunch of individual websites over and over again. To install this handy utility, visit the link below.
Install Custom News For Google Chrome