Custom Print Webpage The Way You Want With Printee [Internet Explorer]
Back in June I wrote two ways to Print Any Part Or Section Of Web Page Without Ads, but if you are using Internet Explorer then there is a much easier way. We at AddictiveTips are huge fans of Firefox browser, but we also use Internet Explorer when necessary.
Note: This post is for those users who use Internet Explorer as their web browser.
Printee is an extension for Internet Explorer that lets user print the webpage the way he/she want. You must have noticed that the default Internet Explorer print feature is useless since it prints just about everything, thus wasting time, ink, and money. If you only want to print the content of the article only without printing the ads and other useless content, then it would be almost impossible to do so with the default Print feature.
With Printee you can customize the webpage by removing the background, aligning the content to the desired position, removing ads, and much more. In the below screenshots you will see how the webpage looked like before and after stripping down most of the useless content using this add-on.
Before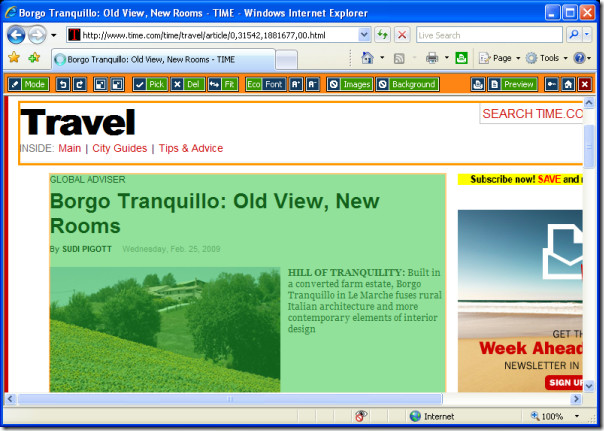 After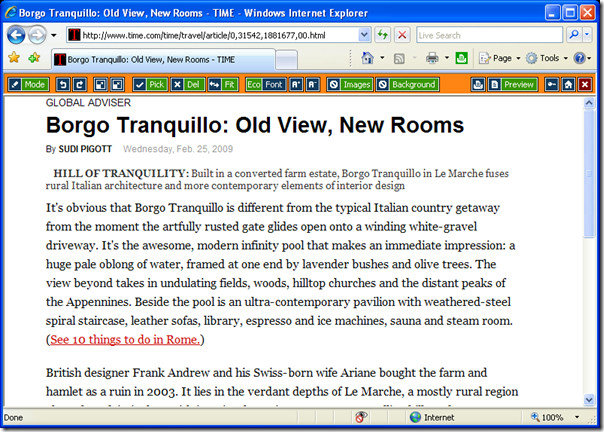 Above screenshots are taken from developer's website.
When you load up Printee, you will see all the options listed in the new toolbar as shown in the above screenshots. Overall, it is quite a useful and easy-to-use tool that would definitely come handy to all IE users.
Download Printee Extension for Internet Explorer
Enjoy!