Customize Menu Opens Chrome Options & Google Apps From Menu
We reviewed a Chrome extension called Mega Button back in June, which gave you access to Downloads, History, Extensions, Bookmarks, Plugin, DNS details, Memory usage info, and Cache logs, frequently used Chrome options, from a single extension button. While the extension made it extremely easy to access some of the most frequently visited pages, it also gave you access to some that you didn't use as often with no way to remove them. Customize Menu is a Chrome extension similar in functionality but allows you to choose which options will appear in the extension's menu.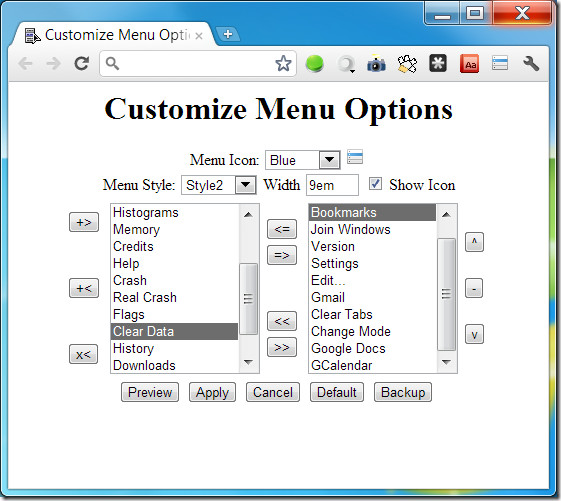 From the extension's options, choose any option from the list on the left and send it to the one on the right. All options in the right hand list are the ones that will appear when you click on the extension's icon next to the URL bar. Some options can be removed from the extension's menu by selecting them from the right hand menu and sending them to the left one. To customize the appearance of the menu that opens when you click the extension icon, there are 10 different styles available to choose from. Alternatively a CSS sheet can be uploaded to create a custom menu style.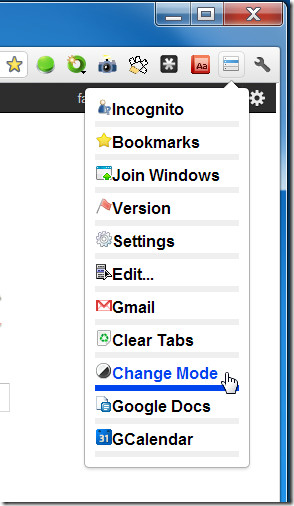 To access the options, click the menu like icon and all option that you've added to the extension will appear in the menu that opens. In addition to access to Downloads, History, Extensions, Bookmarks, Plugin, you can also access Google Doc, Calendar, Gmail, switch to incognito mode, join all windows to a single window, clear browsing data and do much more.
Install Customize Menu Extension For Chrome