Daily Links: Auto-Load A Defined Set Of Tabs On Specific Days [Chrome]
Most people have either a habit or the requirement of visiting a set number of webpages on a daily basis, be it news websites, social networks, or work related items. One option that you have is to use sessions in Chrome, while the other would be to manually reopen all those links every time you launch the browser. Daily Links is yet another solution. It is a Chrome extension that lets set a group of customizable links to open automatically on particular days, so that each morning, you're ready to do your routine reading without going through the same ritual on, say, weekends. The extension can be fully customized, and you may simply click the button in the toolbar to load your desired tabs every day. With it, you can keep track of news, blogs, or any website that you visit regularly. Moreover, the extension seamlessly integrates with your bookmarks folder, so you can import links directly from your bookmark collection. It also allows you to load tabs in a random order, or in an order that you've previously set, thus allowing you to surf the internet more effectively.
When you start your browsing in the morning, all you have to do is just click the button in the toolbar, and the pages for that day will automatically be loaded in new tabs.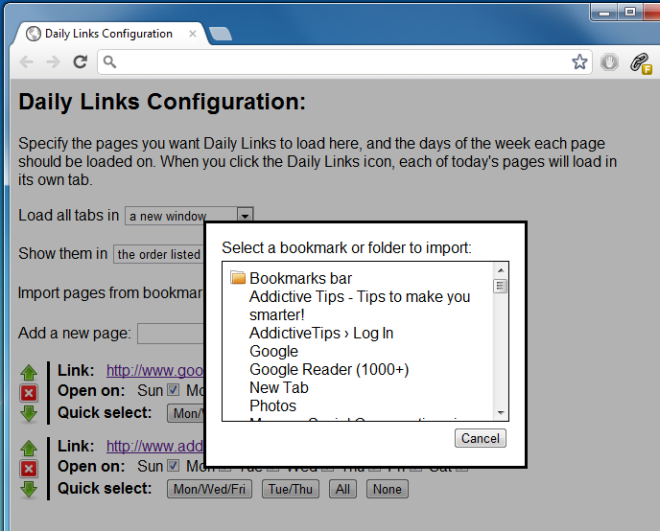 The Daily Links Configuration allows you to open links in an order you've set or randomly. You can also import pages from bookmarks or add a new page. Additionally, the order for the links can be changed by clicking the green up/down arrows, or they can be deleted by clicking the red cross icon.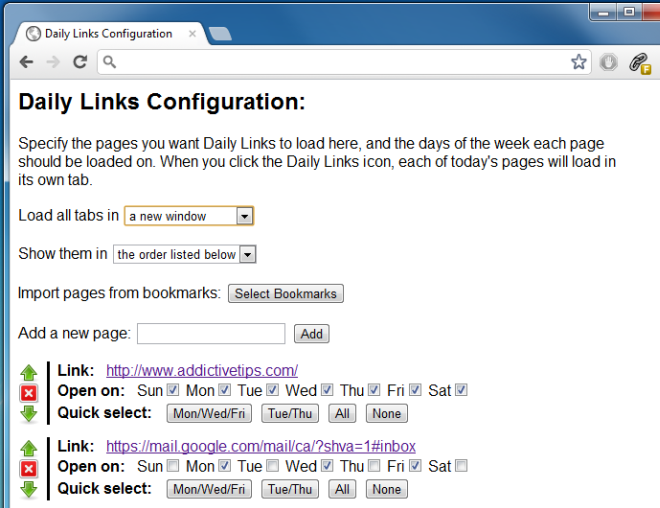 The extension can come in quite handy for people who visit the same websites every day, or other ones which update on a regular schedule, like weekly columns, newsletters etc. It provides faster access, saves you a few clicks, and can be grabbed at the link provided below.
Install Daily Links For Google Chrome