Design And Test Mock Ups For iPhone Web Apps With Mokk.me
Mockup Builder was a recently reviewed web app that helped create design mock ups for websites; Mokk.me is a similar web app that lets you build mock ups for mobile apps with an added test feature to test the app's design and flow on your device. The drag & drop interface lets you create several pages by dragging & dropping widgets on an iPhone interface. The site has widgets for text, images, forms, maps and buttons. The buttons can be assigned to redirect to any of the pages you've created or to external links and will function accordingly when you test it. The app currently works in Chrome and Safari; apps can be tested from both these browsers and from an iPhone or Android device.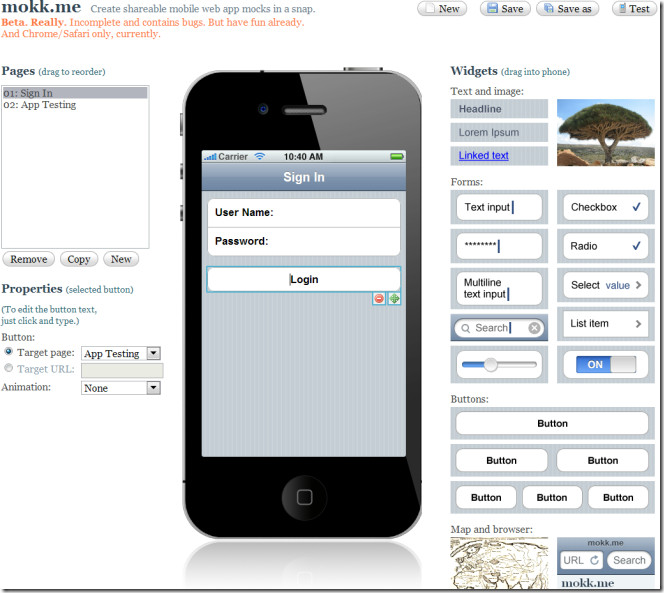 Using the app is simple; just start dragging widgets on to the iPhone interface. You can edit all fields to read whatever you want them to and edit page names right from the interface. You can copy an entire page, drag the pages to reorder them, add as many pages as you want and delete existing ones.
To link two pages together, you must define an action that will redirect to another target page. Actions are assigned to buttons only; buttons can be redirected to either another page in the app or to an external URL. To see which additional controls are available for a widget, select it and check the Properties area in the lower left hand corner.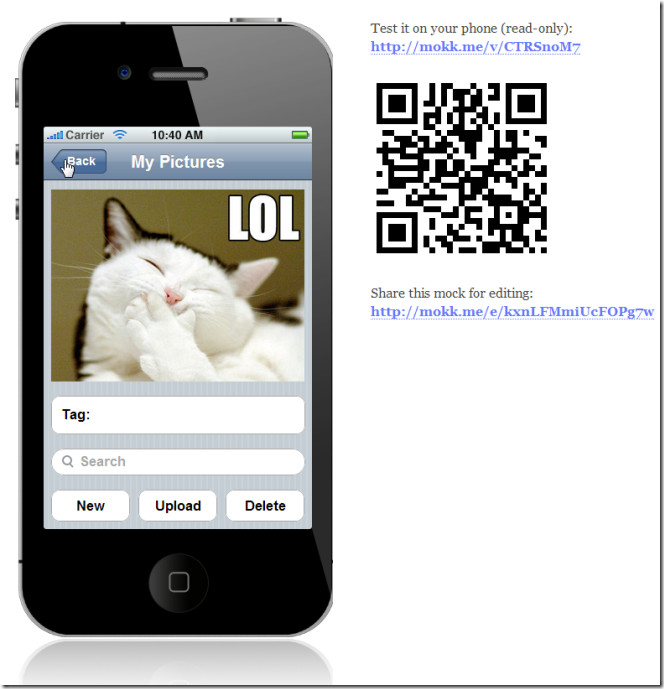 Saving the mock-up is a bit tricky; since you don't sign in to use this app, the only way you can access your mock up is by clicking Save and bookmarking the URL. If you loose the bookmark, you loose your mock up. To test the mock up, click Test and you will be given a URL and QR code to access from your device and test your app or you can test it right from your browser. Apps can be tested on both iPhone and Android. You can resume editing the app any time you want as long as you have the URL saved.