Directly Download Documents, Spreadsheets, Presentations [Firefox Add-on]
Searching for relevant information from the web can be a tiresome task, where the data is huge and relevance is not guaranteed. Spammers also pollute search results abundantly, and the user is left between clicking through links, checking one out and then the other, going back, checking something else and so on. Outwit Docs is a Firefox extension that filters out Word documents, Excel Spreadsheets, PDF files, and Presentations from search results and present them for direct download, instead of the user sorting through pages and pages of results.
Once you have installed this add-on, its icon will show up next to the address bar in your Firefox browser.

Clicking the icon will bring up the extension's main window. It will list all the available supported files on the webpage that you are currently on.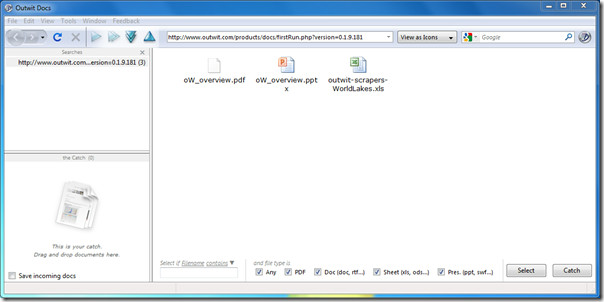 Grabbing files is simple. Simply drag and drop the files that you want to the lower left pane, and click the catch button. Or, if you have checked the option to save incoming files, catching will start automatically. You may also right-click the files in lower left pane and manually download them. The software will ask you for save location and the files will be downloaded.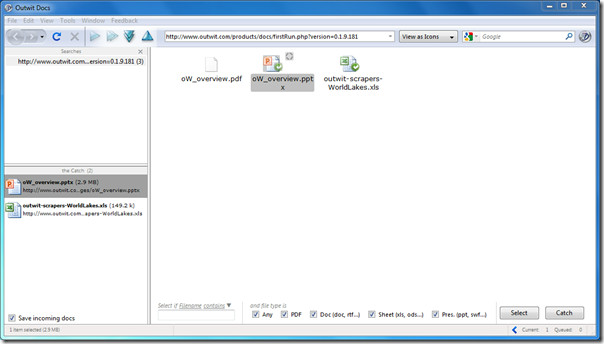 You also get a Google search bar, where keying in a search keyword will return files qualifying the specified criterion. Lower end of the window gives filter options, where you can control what file types to display.

Finally, Preferences are accessible through the Tools menu.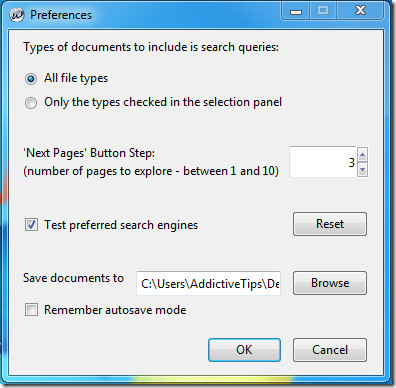 Outwit Docs is a useful extension, especially for researchers, but should benefit anyone who wants documents, presentations, etc from the web without going through the botheration of manually going through several pages and links. It is compatible with Firefox 3 and above, and we tested it on Windows 7 x86 environment.