Display Search History From Google Goggles In Chrome
Google Goggles made image search on the go simple, all you need is your Android or iPhone, the free app and you're all good to go. The app also makes it easier to translate text by uploading an image; extremely useful in case you're visiting another country and having difficulty reading signs or directions. Ever wonder what happens to all those images? If you've enabled Search History in Google Goggles, then they are saved as you take pictures and use them to search. My Search History from Google Goggles is a Chrome extension that lets you see different pictures you've taken and the search results that turned all from within the Chrome browser.
For the extension to work, you must have enabled Search History on your Android. To enable it, launch Google Goggles on your handset, select Search History from the settings and choose Enable History.Remember that all subsequent image searches will be saved to your history and not the previous ones.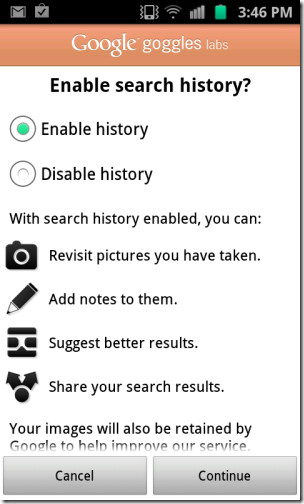 Install the Chrome extension and make sure you're signed in to the same account that you've associated your handset with. Click the extension and you will see all images that you've taken and used to search or translate text. The extension simply makes it easier to get to your Goggle search history, if enabled, it is also accessible at https://www.google.com/goggles/history.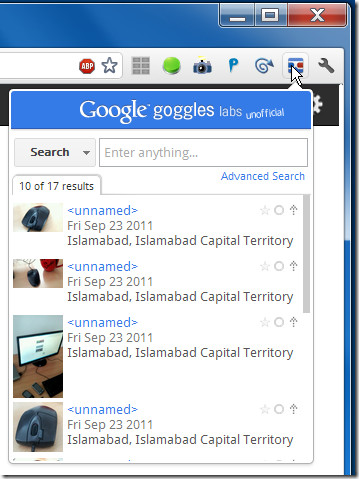 You can click through anyone of the results and see which images Google turned up when you searched on your handset.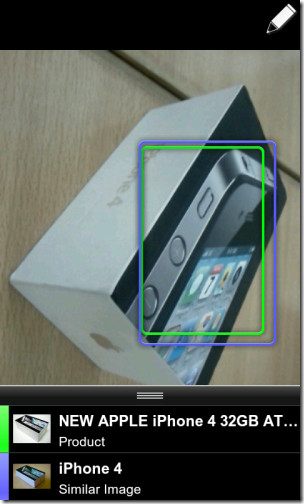 While the Goggles history link allows you to view the images you've taken from your browser, it does not show you the search results nor does it take you to the page where you can download the picture you took. The extension allows you to see both. Click on any image from the drop down and a new tab will open complete with image and image search results.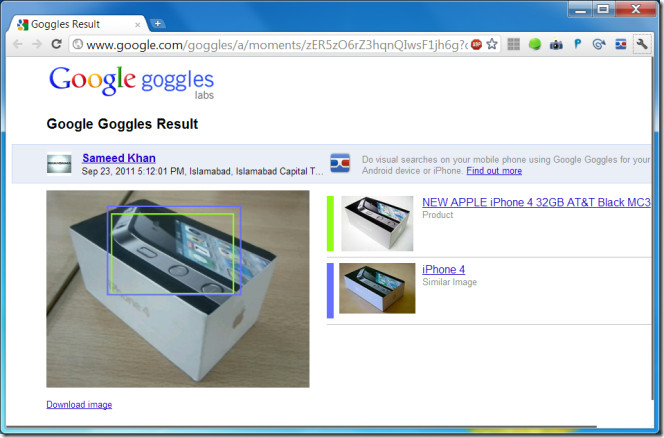 A Download Image link under each image allows you to download the images you took. The extension lets you retrieve all images from the comfort of your desktop and also lets you revisit the search results you got on your handset.
Install My Search History from Google Goggles Extension For Chrome