Download GMail Emails For Offline View
The GMail team at Google released an interesting Labs feature called Offline earlier this year which allowed users to access their emails when offline. You could even send an email offline which would get added to the Outbox and automatically get send whenever you connect to the internet. This is extremely useful for those who are travelling and for those who are having trouble with their internet connection.
But it seems that Offline feature has a downside too, you could never control which emails get downloaded to your computer. What if you want all emails over the last week or month instead of year? If you have enabled Offline from GMail Labs enabled then you will find a new option under Settings which allow you to control the download options.
Go to the Settings and then to Offline tab. Now here you can select the recent message range that you want to download for offline view. You can also specify the maximum attachment that can be downloaded.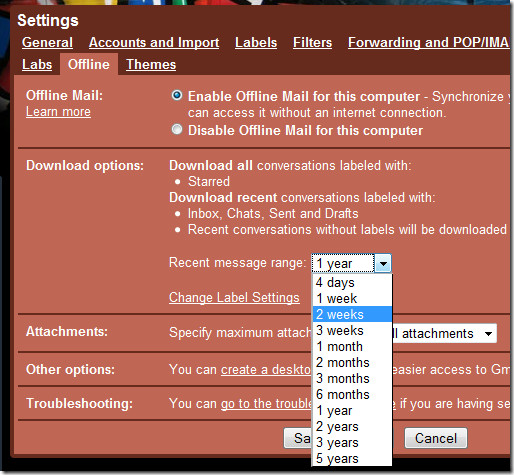 This new feature was announced today and is a great new addition to an already great email service. Enjoy!