Download Online Media (Videos, Podcasts, Music) For Offline Viewing With Offliberty
It gets really frustrating when my ISP is down or there is some sort of disruption in the telephone lines in my area, which knocks out my ADSL connection. In such an instance it becomes quite a nuisance for me to use any wireless alternative, as the wireless signals in my neighborhood are second to none. Most if not all of us have faced a situation where we have been left stranded with our PC without access to an internet connection. This is particularly the case when we are traveling to a place which is close to Mother Nature, which always seems to deprive us of any chance of online connectivity. Offliberty is a website that allows users to view online content offline to rescue us from such perpetual deprivation. In a nutshell, it only makes online media content available offline. Or in layman's term, allows one to download the online media (in both audio and video formats) for offline usage.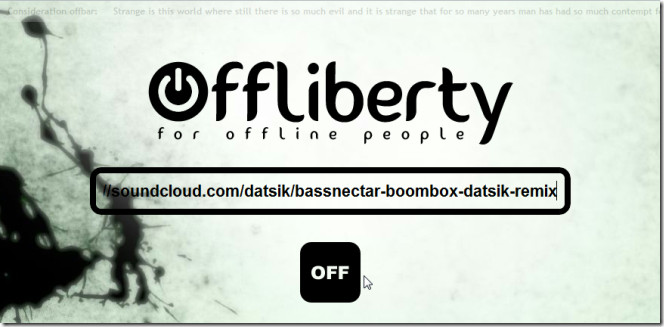 Users can simply enter the URL of the media content that they wish to download and click on the off button. After it is verified that the content is downloadable, users are given a prompt to save the link or a file type such as an flv file (if necessary), for offline use. When a file or link is ready to be downloaded, there is a message that appears on the bottom of the page that warns users that if they download the  content, they in turn agree to the terms and conditions. This is a reference to the fact that any misuse by a user will make him/her solely responsible for the malicious act, as Offliberty takes no responsibility of the actions of its users.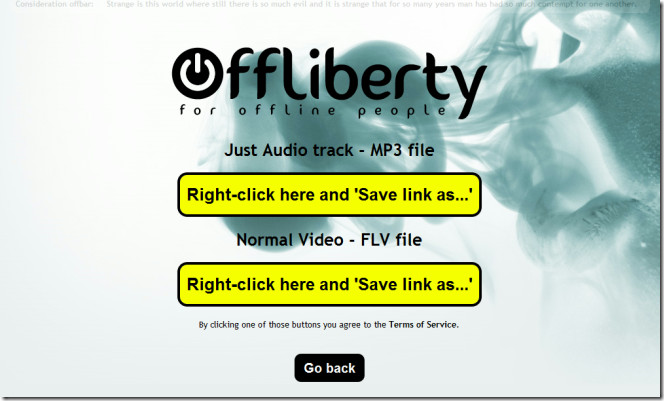 One thing I learned by using this website is the necessity to get used to a prompt that tells you that the content you requested cannot be downloaded for offline use. We successfully tested this website with Youtube and Soundcloud, however, the site did not work with Vimeo, Dailymotionm and countless other sites. For websites that are currently not available, a message is shown explaining that it may be accessible offline in the near future. Users can choose to enable an email alert that will inform them if the requested content is made usable via Offliberty at any point.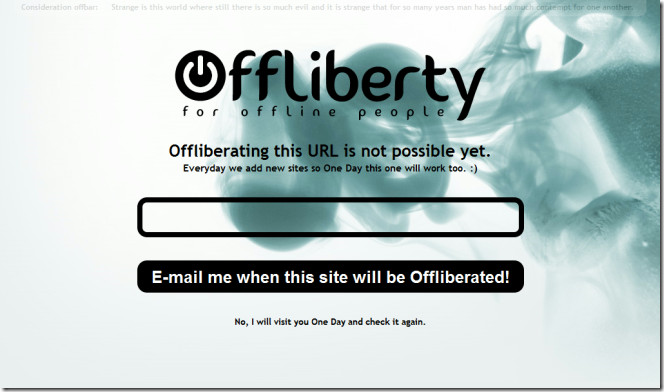 With such great potential I found this website quite lacking compared to the hope of offline liberty that it promises. For now any such attempts will result in a message that assures users of the recent possibility of their desired content to be downloadable with the liberty of offline usage.