Drag & Drop To Share Your Pictures Across Different Social Websites
Dropico is a web application for sharing pictures across multiple social networking websites, such as Facebook, My Space, Twitter, Flickr, Picasa, Photobucket, etc with a simple drag & drop. The functionality is even more interactive and vibrant than that of CoMemories, which we reviewed a while back. With Dropico, you can not only share but also edit your pictures on the fly, across multiple supported websites.
To begin, you will have to first create an account (which is free and hardly takes a minute). Pictures can be managed and shared across multiple social networks by connecting to the specific service and allowing access to the Dropico application. Each supported website that has access to Dropico is listed as ON (can be switched Off with a single click too). You can connect to multiple online accounts during the signup process or later from the settings.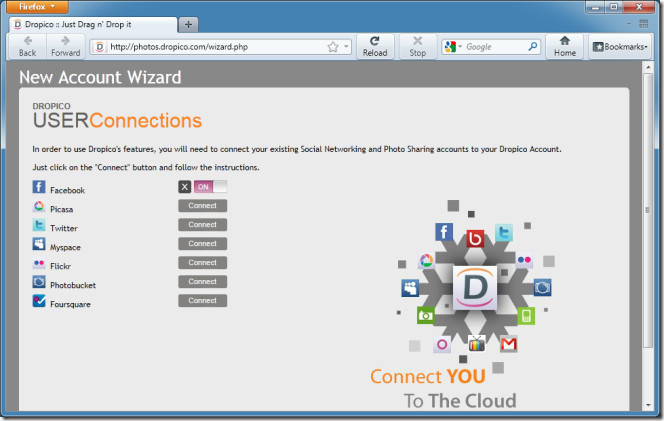 It provides users with an email address that can be used for uploading pictures to Dropico and any connected social networking service via a mobile device. This can be done by sending a photo from a mobile to the assigned email address, which is then immediately added to all the connected social networking websites automatically.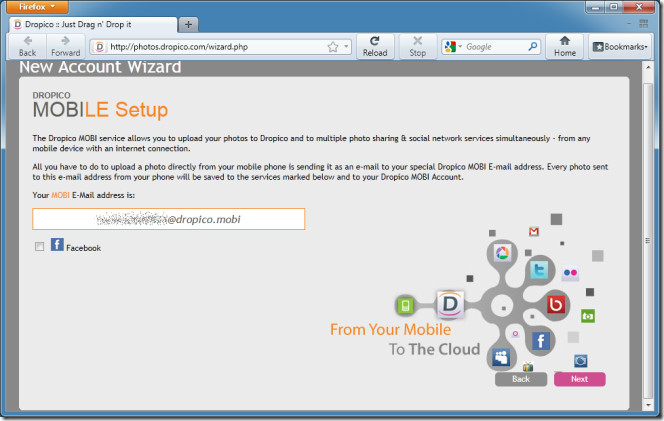 To share photos across numerous networks just drag the respective image and drop it over to the desired album in the main interface. This will instantly transfer the image to the album that it is dragged into. Unfortunately you cannot drag and drop entire albums from one account to another, so you will have to move your images one at a time.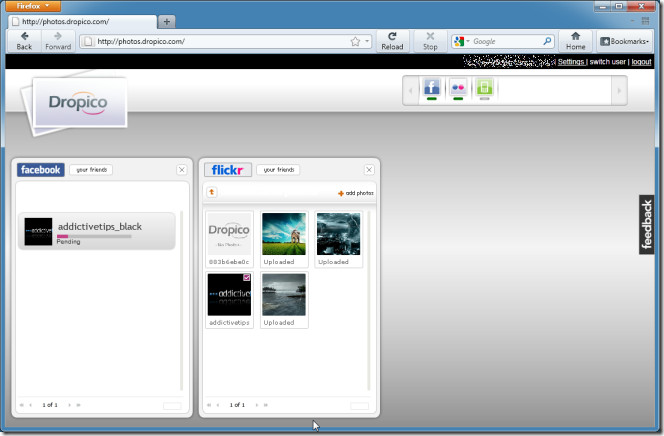 Other than providing the utility of sharing pictures across multiple social media websites, it also includes extensive editing options for users. Hovering the mouse pointer over an album displays the view and slideshow option. The latter allows you to see the image album in a slideshow, whereas the former displays all the pictures in the album. All images can be edited in either the Pixlr Express mode (for quick fixing), Pixlr Editor (for advanced editing options) or the Pizap Editor mod (to make funny photos).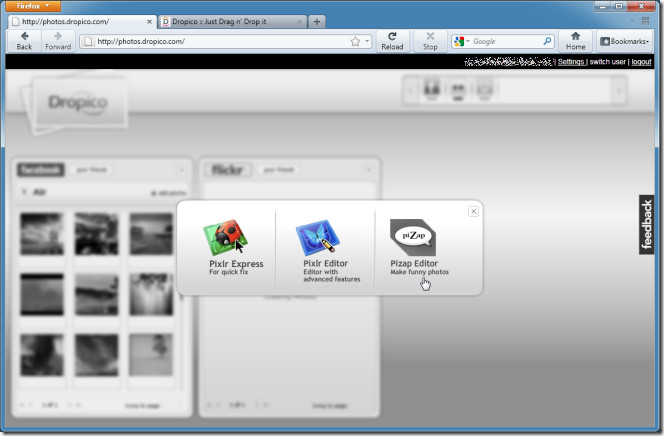 Selecting any of the desire modes, displays the image within an image editing interface with elaborate options to make changes to your photos and to save and share them via your online accounts. The changes made to your photos are instantly reflected on the social media website that it is present on.