DropDo Lets You Share And View Files In Any Format Online [Web Viewer]
File sharing has been made easy by apps and web services that let you collaborate with friends or colleagues anytime anywhere from just about any device. The real problem that restricts users from sharing files or collaborating on them is the file format. Not all file formats are supported by commonly used collaboration apps and services. If you're working in a simple word processor or a spreadsheet  the everyday services are all you need but if you're collaborating on design or audio and video files, you need to ensure the person you're collaborating with can actually open the files you're sending and that's where things get tricky. Dropdo is a web service that resolves the problem of file format compatibility for online file exchange.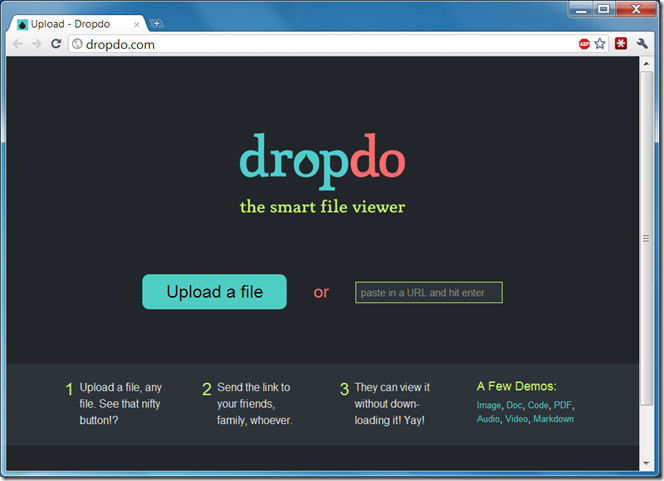 Dropdo makes it easy to share files in different formats; since it's a web service, you don't have to install anything on your device and neither does the person you're sharing the file with. It's as simple as sharing a URL. Dropdo is an easy three step process ; you upload a file from your system or (if it already exists online) you can enter the URL of the file and Dropdo generates a new URL where the file can be viewed. Users can share the file in different ways (Twitter, Facebook, LinkedIn or email). Files can also be downloaded in their original format. If you're checking a file on a public system (that does not support .psd format), you can use this service to view a .psd and when you return to your own system, you can click on the link and download it. All formatting will be intact. While Dropdo lets you view files from different formats though the quality is sometimes compromised a bit, for example, when viewing a .psd file.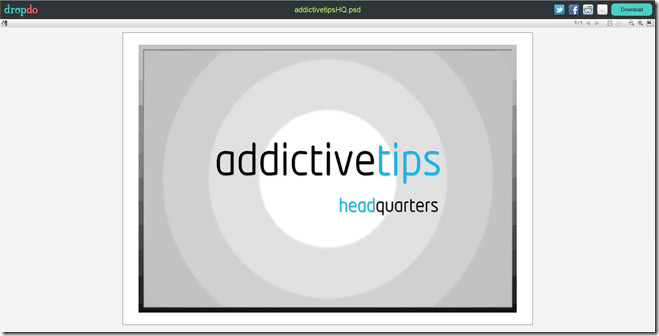 Though a simple concept; it can be used for more then just file sharing or collaboration. An online copy of your resume can be kept on dropdo, and you can share it with practically anyone without worrying if the file will open on the other end or not. Its' also a great way to show  simple portfolio of your work on a website, in a resume or even your Facebook page.
A Chrome and Firefox extension for dropdo is also available. The extension lets you share files by right clicking on any file link. An 'Upload to dropdo' option is added to the context menu. When ever you right-click a link and select the option, it will open the file in dropdo in a new tab and all you need to do is share the link.
Currently the size limit of files that can be shared is 25MB, larger sharing capacity is expected in a premium version of the service. dropdo supports Image, Doc, Code, PDF, Audio, Video and Markdown formats.