Easily Create And Organize Events With Doodle
People who work in corporate setups or in any such capacity where they get to use Microsoft Exchange, often praise the convenience it brings to their lives by making appointments easy to manage. With shared calendars and information, you never have to worry about your participants availability, their schedules, etc, because these things are taken care of automatically. But what if you do not have the luxury of Microsoft Outlook/Exchange? What if the event in question is a personal one, between friends? How do you judge people's availability in such a case?
While there may be various other solutions, very few can match the simplicity brought by Doodle. Forget endless phone calls and repetitive emails, trying to find out everyone's will. With Doodle, simply visit the web page, create your event, choose suggested dates and times, and you get unique URL for your event that you can email to potential participants, who can then visit the event and confirm their status.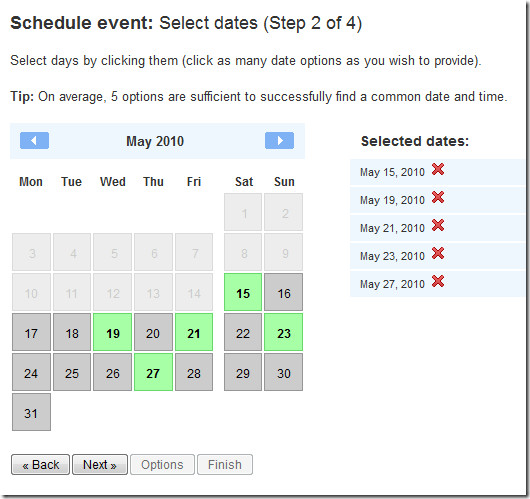 For the organizer, there is a special administrative URL which you can use to manage the event. It works in four simple and very easy to follow steps, and can ease up event management a bit. Only the administrator can view the participants' responses and proposed dates and times.
At the close of every event come a few handy options as well, which you can experiment through.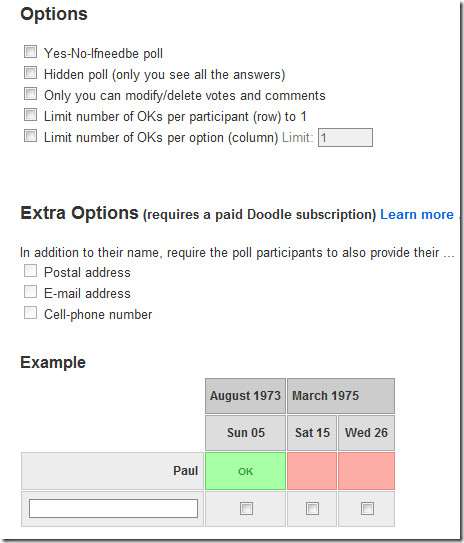 Doodle is a free and no-registration service, although you can get a paid subscription as well and create an account on the website. Furthermore, it can also integrate with Google Calendar, Outlook, Yahoo and Facebook, making events more easy to organize.