Easily Open Closed Tabs In Google Chrome [Extension]
Google Chrome remains my personal favorite for daily usage. However, one really annoying thing about Chrome has been the clumsy way it handles reopening of recently closed tabs. Why should I right-click the title bar, select Reopen Closed Tab and repeat the procedure five times to get back the tab that I closed five instances ago? Why is there no choice?
A new Chrome extension by the name of Trash Can allows you to do just that. Basically it lists all previously closed tabs in a drop-down menu, and you can click just the one you need to reopen it quickly.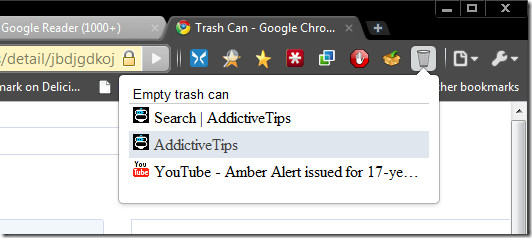 The extension adds a trash-bin like icon to your extensions bar, where you can simply click the icon and a list of recently closed tabs will appear. There is no limit to the number of tabs that is remembered.
Trash Can is in a very initial stages, and does not sport many features other than the basic functionality that it offers. However, the developer promises several new features in later versions, including:
Save tabs between sessions.
Better support for multiple windows, if necessary.
Incognito mode support.
Optional limit on the number of tabs to remember.
On a final note, while it says that Incognito mode is not yet supported, my testing with it resulted in fine working. Also, Trash Can uses a lot less memory than any other similar extension around (well under 1MB of memory).
Install Trash Can [Google Chrome Only]