eBay Box: Search Items By Filters & Save Queries For Later [Chrome]
With several popular online shopping sites, it has become easier for people to search for the products they want. While eBay is one of the most popular online shopping sites where numerous products are sold and purchased, it does have some unnecessary clutter, such as ads, welcome message and other related content, all of which can cause you to get distracted from searching for your desired item. eBay Box provides you with the simpler way to search for items on different eBay sites. This chrome extension helps you get more out of your buying or selling by letting you filter products on basis of location, price, category, item condition and sort order options. With it, you can save search results and filter products available in your country. If you like shopping for a variety of goods on eBay and want to quickly search for different items available in your country, then you will find this extension quite useful.
When you click the button in the toolbar, a pop-up will be displayed with a search bar, price range and a categories drop-down menu. Additionally, you will be able to switch between different tabs for Results, Saved Searches, Watch List, Advanced Search and About options. For instance, if you are searching for an iPhone, just type iPhone in the search box and press Enter. The results tab will show you the findings and you can navigate the results by clicking the Back/Next buttons. You can also save your searches by clicking the Save this search button displayed at the bottom right of the pop-up.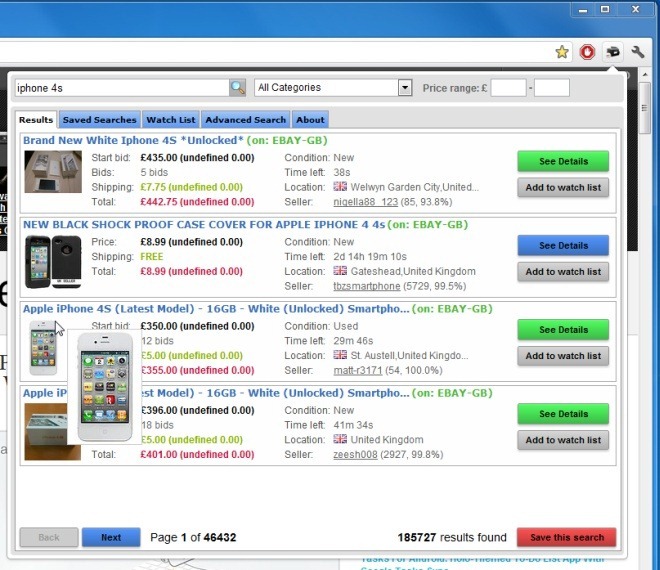 The results can then be retrieved later on from the Saved Searches tab. When you click the Add to watch list option, the results from the search are simply added under the Watch List category.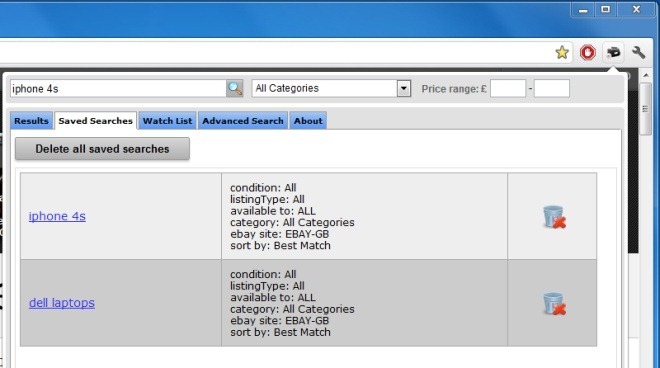 The Advanced Search allows you to filter search results by different options, such as location, buying format, item condition, the range for the number of bids and seller feedback score. You will also find a Sort order option that allows you to filter results by Best Match, Time ending soonest, Price: highest first, Time: Newly listed and other similar options.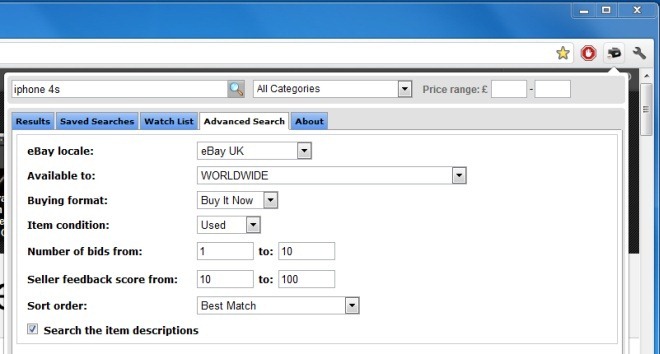 If you want to change the currency for your search results, then simply go to the Options and select your desired currency from the drop-down menu.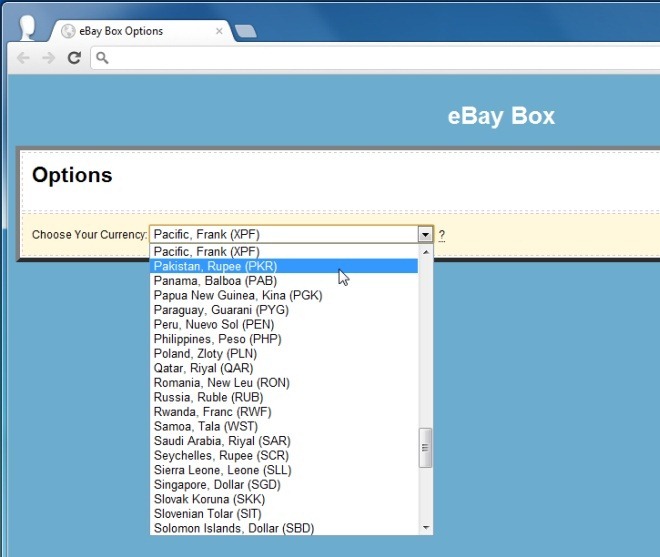 We recommend all the shopaholics to give eBay Box a try, as it makes searching eBay a breeze. The extension can be installed from the link below.
Install eBay Box For Google Chrome