eBay Web App For Chrome Enhances Your eBay Shopping Experience
eBay has a number of unnecessary details on its website, including ads, welcome message, shop-safely information and other related content, all of which can cause you to lose focus from searching for your desired item. The new eBay Web App for Chrome is the right approach towards using the web service if you are faced with this problem. It gives you a great visual, buying experience by integrating the latest web technologies to make its homepage more streamlined with images that are less cluttered and more centric. Also, the search results and categories menu becomes simpler and easier to access.
eBay's classis website has a categories menu to the left whereas ads are in the center of the homepage, and occupy most of the area. There is a search bar and a drop down menu placed at the top of the page. All these items make the website quite cramped up, and one can easily get distracted.
The eBay Web App totally changes the look and feel of the website by giving it a more slick interface. Categories are displayed using thumbnails and text, providing users a more visual and interactive buying experience. You won't find any ads or other unnecessary content. Options are available for Sign in, Register or visit My eBay by using the tiny menu displayed to the top left of the page. Alternatively, you may go back to the Classic website or access other options by clicking the button to the top right.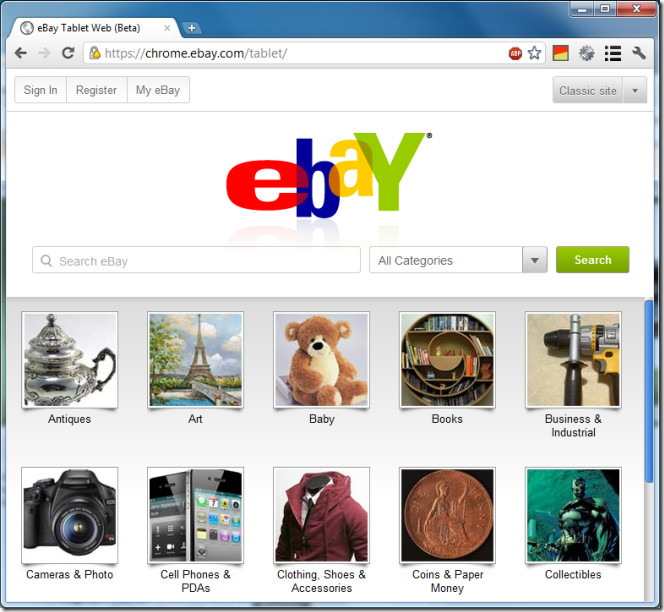 You can also view search results as lists or thumbnails, complete with seller information, giving the web app an edge.
Click the Refine Search button to narrow down your search results by selecting different parameters such as Seller, Price, Location etc.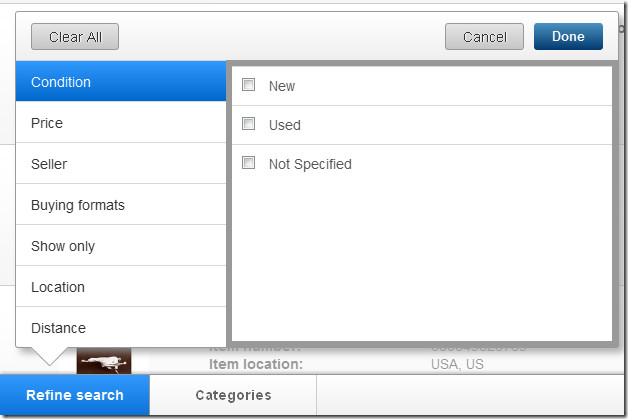 eBay web app for Chrome gives a more interactive shopping experience, and we highly recommend it to regular users of eBay. You can install it using the Chrome Web Store link provided below.
Install eBay Web App For Chrome