Edit Images Directly On Webpage With GooEdit
Editing online images generally requires you to download them to your PC first, and then edit them using an image editor. But what if you could edit images directly on the webpage you saw them? Wouldn't that save some time and effort? GooEdit, an extension for Google Chrome, offers just that. It's a powerful, yet simple image editor that lets users edit images online.
The application saves itself as an icon next to the Address bar of Google Chrome. To start editing an image on a webpage, just click on the pencil icon. After clicking on the icon once, right-click the image you wish to edit. The image will be highlighted in red, and the Image Editor tray will popup, below the Address bar. Hover the mouse over an option on the Image Editor tray to read its description. Click an option to see its effect on the selected image.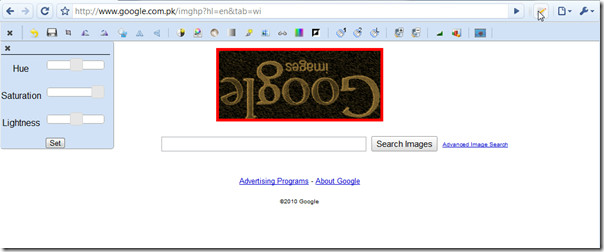 It offers plentiful image editing options, such as invert, edge detection, add/remove noise, pointillize, blur, grayscale, rotate left/right and many more. Click on the left floppy icon to save the edited image to your PC.
In all, we find it to be a very useful utility with a lot of potential uses. Friends can employ this tool to edit and twist online images of each other, even make them funnier, and post them directly on social network sites, such as Facebook. For others, the tool will prove to be a simple and quick image editor that relieves them from what were otherwise, essential steps of the entire editing process.