Email Any Web Content To Yourself With CC:to me [Web]
Often, we want to keep a record of all the interesting information that we come across while we browse the web. Among various methods available to do so, one is to email the said data to ourselves, but generally that would mean copy/pasting the information into an email service manually. To avoid this unnecessary process, CC:to me is a web application that provides a bookmarklet to email yourself anything from anywhere within the browser. The service is completely free, and requires a simple sign up, after which you can quickly install a bookmark that opens a pop-up on any website with the click of a button. The cc:to me bookmarklet lets you drag all kinds of web content onto it, such as text, images, or entire articles, after which they'll be sent to your inbox. The content formatting is also retained, so WYSIWYG applies.
So, whenever you come across an interesting article or image, simply drag it on to the bookmarklet. The popup allows you to add notes to the text, and even edit it before the email is sent.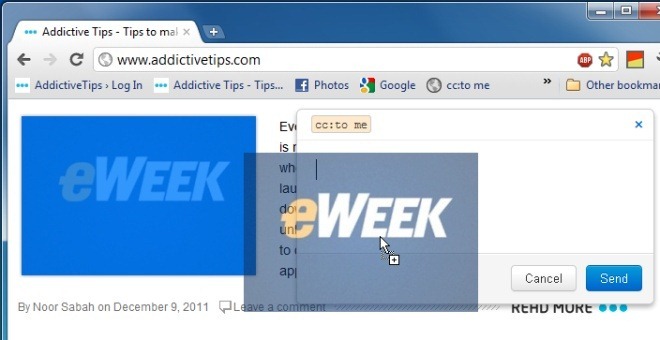 Once you've added selected content to your bookmarklet, hit the the Send button, and an email will be sent to you via the service. The web content is mailed in its original format, and is never modified.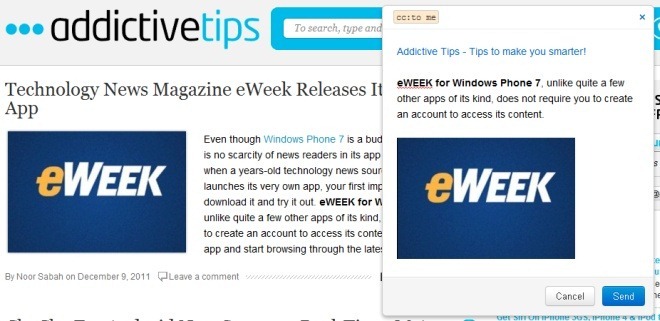 A pro version for CC:to me is in the works, which will come with additional features such as multiple email recipients and Dropbox support. Overall, this is one handy and neat tool that allows you to quickly email stuff from the web to yourself. Visit the link below and try it out.