EmbedPlus Embeds YouTube Videos With Advanced Playback Controls
EmbedPlus is an excellent online video-based online tool, co-developed by AddictiveTips reader Shola Tay Omojokun, that brings advanced playback controls to embedded YouTube videos, which are not found in many popular video players. We know that YouTube offers basic playback controls which are not enough for many users, Embedplus allows one to enhance embedded videos with real time reactions whilst offering advanced DVD-like controls to handle video playback.
It offers movable zoom to let user dynamically magnifies the embedded video. Slow motion option is available for videos with faster playback or with elusive videos like tricks, illusions, etc. Scene skipping is another useful control, just as you can move through different DVD video chapters, YouTube embedded videos can now be tracked forward and backward chapter-wise. Sounds awesome, right? Wait, there is more.
Third-party annotations are also provided, allowing you to add timed annotations to display titles, scenes labels, captions, side comments in a special control bar that is responsible to display all the text, so your video viewers will not get distracted from added annotations. EmbedPlus offers a simple wizard having 3 simple steps, first off, you need to paste the YouTube video URL.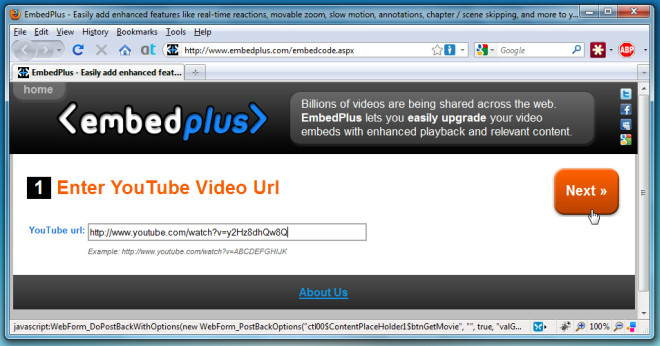 In the next step, enter video height/width dimensions, start time, and define time to add scene markers for spotting noteworthy parts of the video.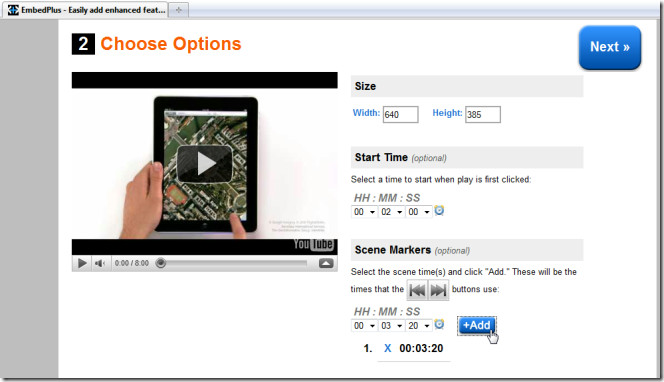 Before getting code, you can add annotation on defined time and enable real-time reaction options to let your audience view feedback on the fly.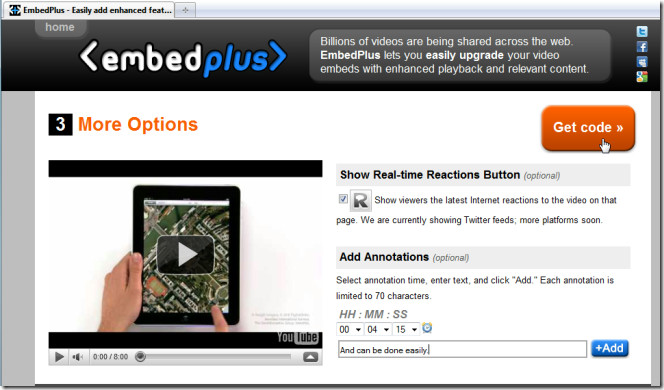 Along with the new embedded code, it generates a bit.ly URL. Before sharing the code with others, you can also watch the video to check and verify annotations and screen markers respectively.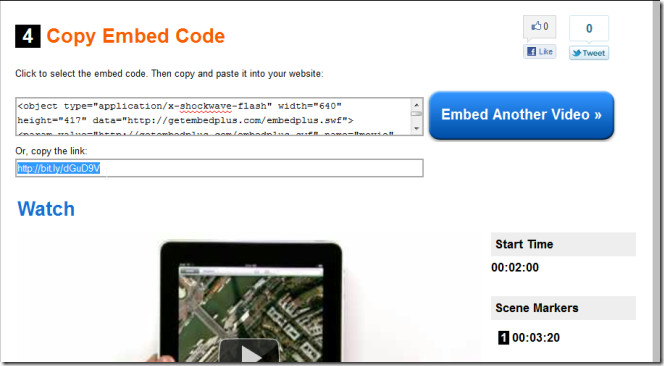 Below you can watch YouTube video embedded with EmbedPlus.
It certainly provides an awesome addition to YouTube video controls. If you're a Vblogger, give your readers a greater video watching experience with EmbedPlus.
On a sidenote, we believe the folks at Google should take note of this awesome service, buy them, and integrate advanced embed options in YouTube. EmbedPlus provides controls that YouTube should have included in the first place. Definitely a startup worth keeping an eye on.