Enable Keyboard Shortcuts & Create Custom Hotkeys In Gmail [Tip]
Gmail is becoming an increasingly popular email service. When Google launched it back in 2004, no body knew it would receive such mainstream acceptance.  Right now, it is the 2nd largest email service around and time is not far for it, to claim the 1st spot. Albeit Gmail provide a lucid user experience, various tweaks and tips make it more robust. Keyboard shortcut support is a rather unknown feature of Gmail. If you love using keyboard shortcuts, you must know how convenient it is to use hotkeys to perform mouse-intensive tasks. If you're an avid Gmail user who spends the better half of the day managing emails, then you might want to use hotkeys to quickly navigate between mailboxes (Inbox, Sent Mail, Drafts etc.), and other Gmail sections including Contacts and Tasks. Gmail natively supports quite a few hotkeys used to jump between different Gmail pages & sections, and even allows users to create custom shortcuts for performing routine tasks. In what follows, we will let you know how you can enable keyboard shortcuts in Gmail and create custom hotkeys to quickly perform your routine tasks without loosing focus on your everyday computer work.
By default, the keyboard shortcuts are not enabled in Gmail. In order to enable shortcuts, you need to open Settings window and then head over to General tab, and enable Keyboard shortcuts On option.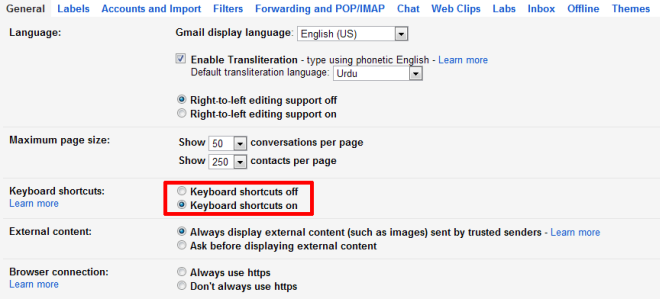 The list of keyboard shortcuts can be viewed by pressing the "Shift + ?" hotkey combination. The shortcuts are neatly divided into separate categories including Jumping, Threadlist Selection, Navigation, Application and Actions.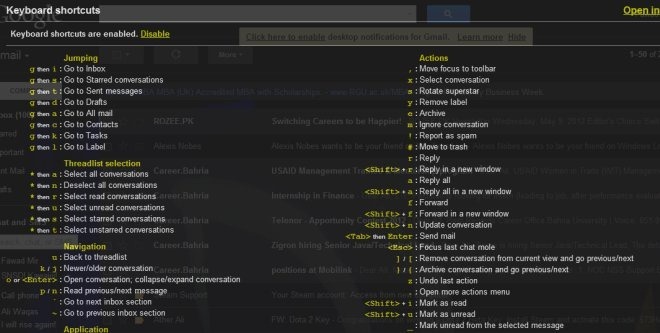 That's not all, other than the built-in shortcuts, Gmail also allows you to create custom shortcuts. To create custom shortcuts, open the Settings window and head over to the Labs tab. Under Gmail Labs: Some Crazy Experimental Stuff, search for Custom Keyboard, select Enable from Custom keyboard shortcuts section, and click Save Changes.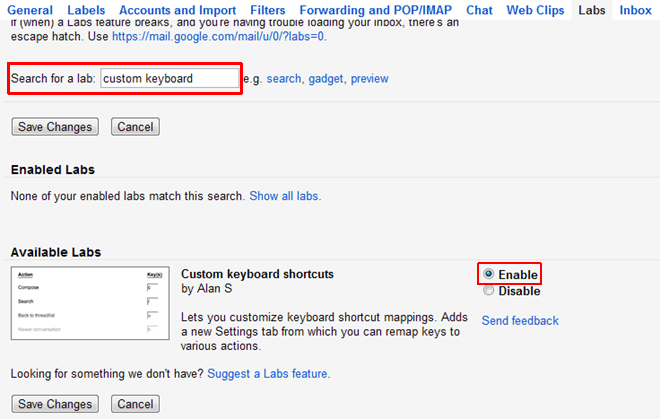 A new tab named Keyboard Shortcuts will be added in the Settings window. It contains a list of all the shortcuts offered by Gmail. You can, either replace the default shortcut key for an action, or set a secondary shortcut for it. After you have configured all the required shortcuts, click Save Changes.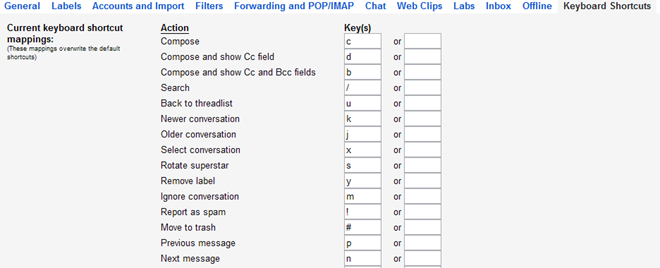 If you like using keyboard shortcuts rather than the mouse for performing different actions, then Gmail custom shortcuts option proves to be quite handy. If you have some more tips to share, don't hesitate to tell us in comments section.