LiveClick: Enhance Firefox Live Bookmarks With Unread Count, Icons & More
If you subscribe to your favorite RSS feeds using Firefox's Live Bookmarks feature and want to improve the way it works, then LiveClick, a Firefox add-on, can be quite useful for you. This neat tool adds various enhancements to the Live Bookmarks, such as feed reading, notifications, alerts and more. With it, you can easily see which bookmarks have new or unread items, and control how often Live Bookmarks checks for new ones. You can also mark live bookmark items as read, and hover over a live bookmark item to preview its contents. Moreover, you can click a Live Bookmarks folder to quickly access its homepage and use website icons instead of the default RSS icon.
After installing the add-on, you will notice that the live bookmarks with new items are highlighted in an orange color. Click the drop-down arrow on the button in the toolbar to Check for new items, Reset New count, Mark All Live Bookmarks As Read, Clear Live Bookmarks history and more. If the add-on finds new items, then a count is displayed over the Live Bookmarks button.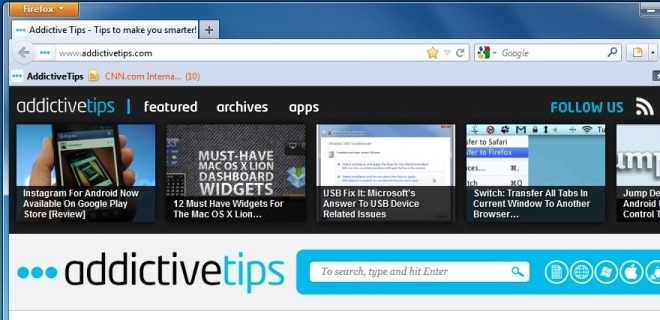 Simply click the live bookmarks to read new items, and view unread or read items. Access the LiveClick Options to change the appearance and font of read, unread or new items, and set a time interval for the checking of new items.

The General category allows you to check for new items on Firefox startup and check them after a specified time interval, whereas the Appearance category lets you display the count of new items and change the fonts for new, unread and read items. You will find multiple options for the appearance of New, read and Unread items in drop-down menus, such as Orange, Faded out, Bold Face, Normal or Custom. With it, you can also display the favicons instead of the livemark icons.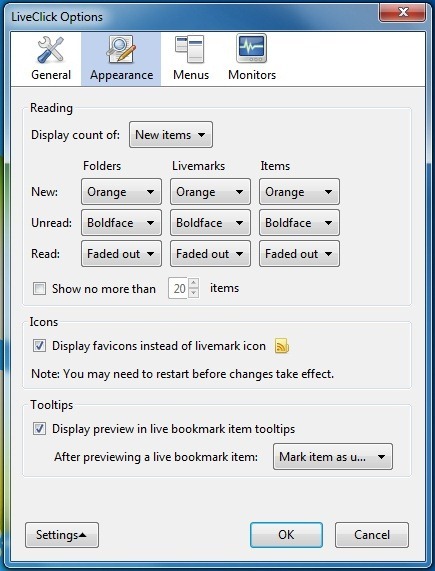 The Menus category lets you select functions for Clicking Livemarks from drop-down menus and select multiple options for Livemark Menu Options. The very last tab, Monitors, lets you set alerts when a live bookmark has a new item. You can either monitor all your live bookmarks or select individual websites from the list, once done hit the OK button and you're good to go.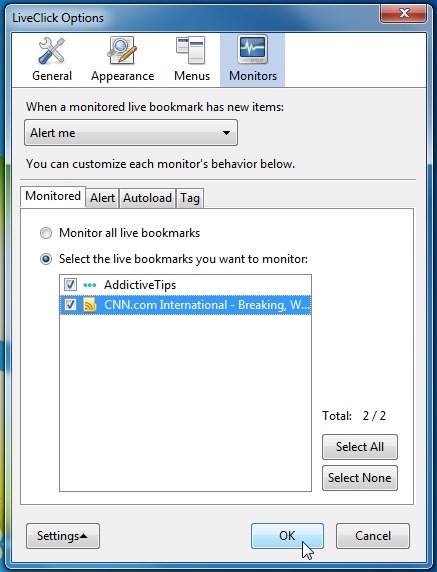 The add-on is a must have for all those who regularly use Live Bookmarks in Firefox and would like to enhance its functionality. Visit the link below, install the add-on and let us know what you think about it!
Install LiveClick Add-On For Firefox