eVault Web App Allows Secure And Private Online File Storage
If you're looking for a secure file storage service for your confidential data, the eVault web app can be of great help. It allows secure file storage and uploading, encrypting all files with 256-bit AES and, no keys are stored within the service. In addition to that, there is no personal information collected by eVault, and all you need to do is enter a username and password to register. Your log-in information is your decryption key, so make sure you don't forget it, as it can not be recovered later by any means. The core of the service is completely free, with a number of paid upgrades available. Furthermore, your data is online, so you can securely access it from anywhere. eVault also comes with another useful feature known as Release, which allows you to email your file to a list of up to ten recipients at a predefined date & time.
eVault offers a base storage of 50MB, which never expires and can be increased with each new user of eVault referred by you. It also allows you to upload files of maximum 2 MB, and a total of five uploads is allowed. More uploads can also be gained by referring new users, or you can simply choose to purchase unlimited uploading. File releases are managed in a similar way. The Usage category displays memory and the bytes that are encrypted and decrypted. You can easily purchase an extra 50MB storage for $4.99.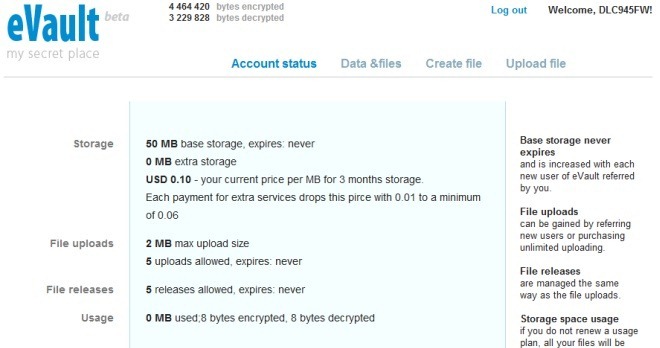 Once you've created files, they are stored in the Data & files category. Here, you will be able to view the Size, Date/time, Title and Preview. In addition to that, you can also edit, Release or Download these files.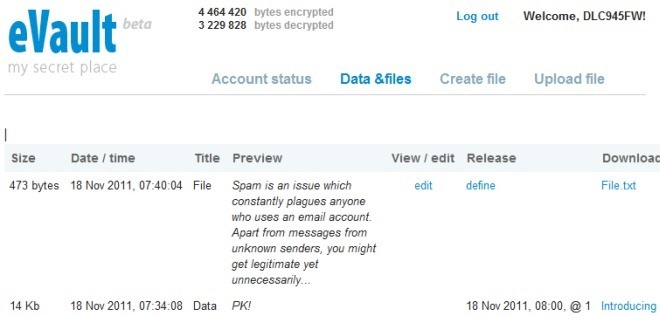 When you choose to release a file, you can set the time/date, change the file name and add a short message.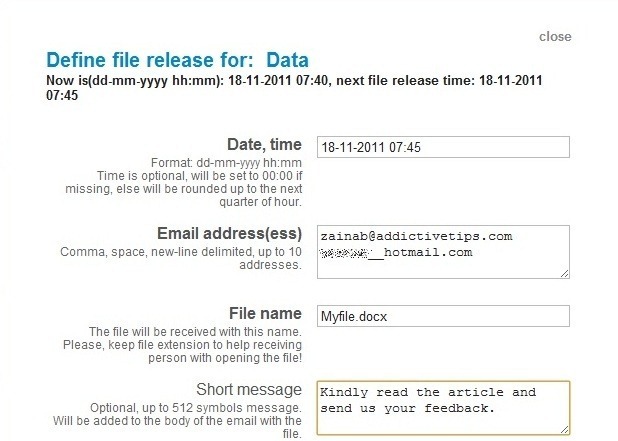 eVault is recommended to all those people who want to store their important or confidential documents online. Visit the link below and give it a shot.