Extensions Manager: Easily Manage Chrome Extensions, Themes & Apps [Chrome]
Managing loads of extensions in Chrome can sometimes be a pain. Chrome, as smart a browser as it is, does not provide a very smart extension manager. Even accessing the extensions page is somewhat a long process with no keyboard shortcuts to speed it up. It's why extensions like Megabutton are such a hit; they make accessing Chrome pages much easier. Extensions Manager is a Google Chrome Extension that provides a simple solution to managing extensions without having to visit the extensions page. It displays a pop-up that quickly allows you to enable, disable, uninstall or update extensions, applications and themes. Each item is accompanied by its details. such as name, version and description. There are also buttons for opening the extensions' homepage and options. Furthermore, you can also use the checkboxes to quickly enable or disable an extension, theme or app. Details after the break.
The extension has eight basic options displayed at the top of the pop-up manager, including All, Extensions, Applications, Themes, Enabled, Disabled, Outdated and Recent. A useful feature is that the checkboxes quickly allow you to enable or disable the supported items, while the cross icon simply allows you to uninstall different items. In addition to that, when you mouse over any item, details for it are displayed. You may also click this icon to visit the homepage of the extension. The Recent category lets you view updates and the outdated extensions are displayed in the Outdated tab.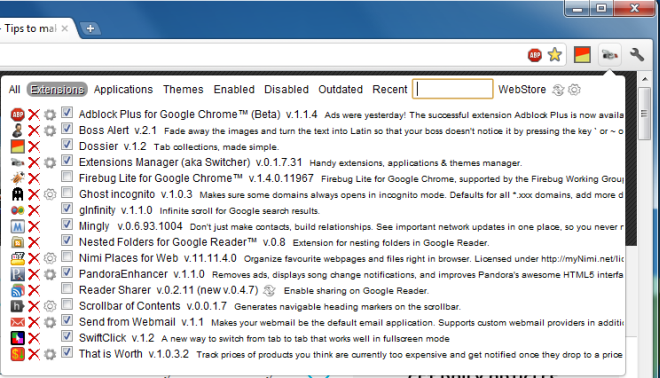 Customize this extension by accessing it's options. You can change the Types of entries of Recent View, show or hide Extensions view, Outdated view and so on. You can also enable or disable notifications when an item is installed or uninstalled. Extensions Manager comes with multiple options that you can use to customize it.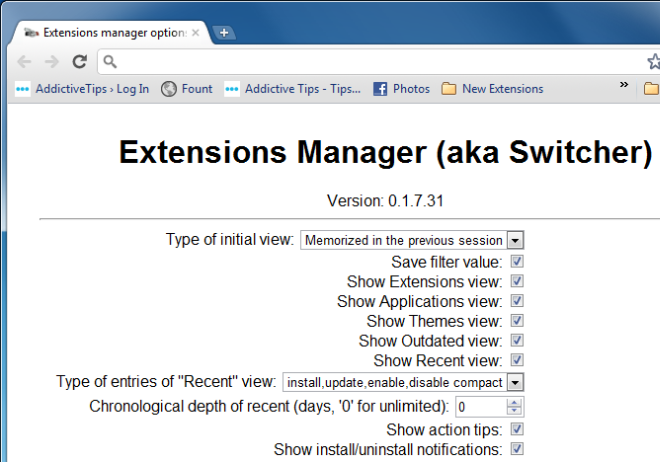 The extension is pretty good and it hasn't missed a trick providing just about every type of filter you would need including a search bar to find an extension. If you've only got a few extensions or themes installed, you might not see the utility here. While the extension is already well equipped, perhaps a grouping feature would be a great addition. Again, it would only be of use for users who have lots of extensions but would nevertheless be more than welcome.
This extension is quite useful, especially for people who have lots of installed extensions, themes or apps. Grab it at the Chrome web store link provided below.
Install Extensions Manager For Google Chrome