Facebook Video Player: Watch Videos & Continue Reading Posts [Chrome]
Sharing videos is just another thing that makes Facebook so addictive. While you may be interested in scrolling through the latest album your friend has uploaded, you will, at the same time, like to enjoy the music they are listening to or perhaps a family video. The only problem is that Facebook's interface or rather your news feed is not designed to view multiple items at once and that means if you want to read a detailed article or watch a video you have to navigate away from your Facebook page. Videos can be played directly in your feed but you can't watch it unless you stop scrolling. Facebook Video Player is an extension for Google Chrome that enhances your video-watching experience on the social-networking giant by allowing you to play Facebook videos in a fixed location, to the right side of the page. Using this extension, you no longer have to pause your commenting or wall-posting, since you'll always have the video in front of you. As you click videos, they are all added to this side bar and each one is played in its own media player.
Once you've installed the extension, it automatically starts working when you play a video on Facebook. Remember that you have to click the video's preview thumbnail. If you click the title or the link to the site it has been shared from, the video will open at its source in a new tab. The video will be displayed in a fixed block to the right of the page, along with support for multiple videos. While you can continue to browse Facebook and watch the videos at the same time, if you decide to close a video, just hit the cross displayed next to the title of a video. What's noteworthy about this extension is that it doesn't just confine itself to playing videos but also allows you to view comments and likes for a video.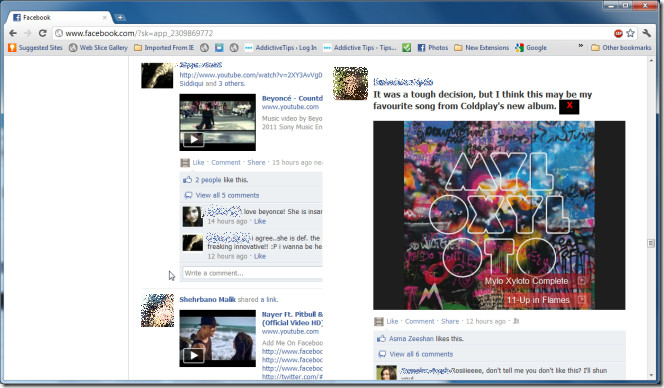 The extension will help limit the number of tabs you have open and is a reasonable way of queuing videos to watch from your feed. Facebook Video Player for Chrome may find particular popularity among the video buffs on the said website. This is the initial version of the extension, so we can expect quite a lot of new features in future releases. The link below will find this free extension for you in Chrome Web Store.
Install Facebook Video Player For Chrome